How to find your League of Legends replays & highlights
League of Legends is a fun game, and you never really know what's lurking around – you could be in for a surprise at any moment. After you finished your League of Legends match, Riot Games gave the player the option to download the replay (This was previously not possible, but since the number of League players has increased, Riot decided to implement this feature so that players can share great play with their friends). So, if you do an unbelievable act that you want to share with your friends, just tap that replay button and do it from there. This allows you to record great plays you may have made. It doesn't matter what kind of LoL mode you're playing – you can hit the playback button on ARAM, Normal or Solo/Duo Queue – there aren't any limitations here, thankfully. You can save the playback file and replay it whenever you feel the need. You can then send the replay video to your friends and they can see how you play.
Video recording software can also be used
If you have video capture software, such as Fraps, you can use it during the match to record parts of your game. and once they're saved, where can you find them on your PC.
How to save a highlight in League of Legends?
By accessing your match history (this can be found in the profile section of your LoL account) you can save markers.
Saving a match as a replay file is not difficult at all. All you have to do is click the "download" button. This button can be found to the right of a game. After you click that button, the download will begin. The download will need to start before it turns into a play button, allowing you to watch the game through the client.
Find the location of your saved replays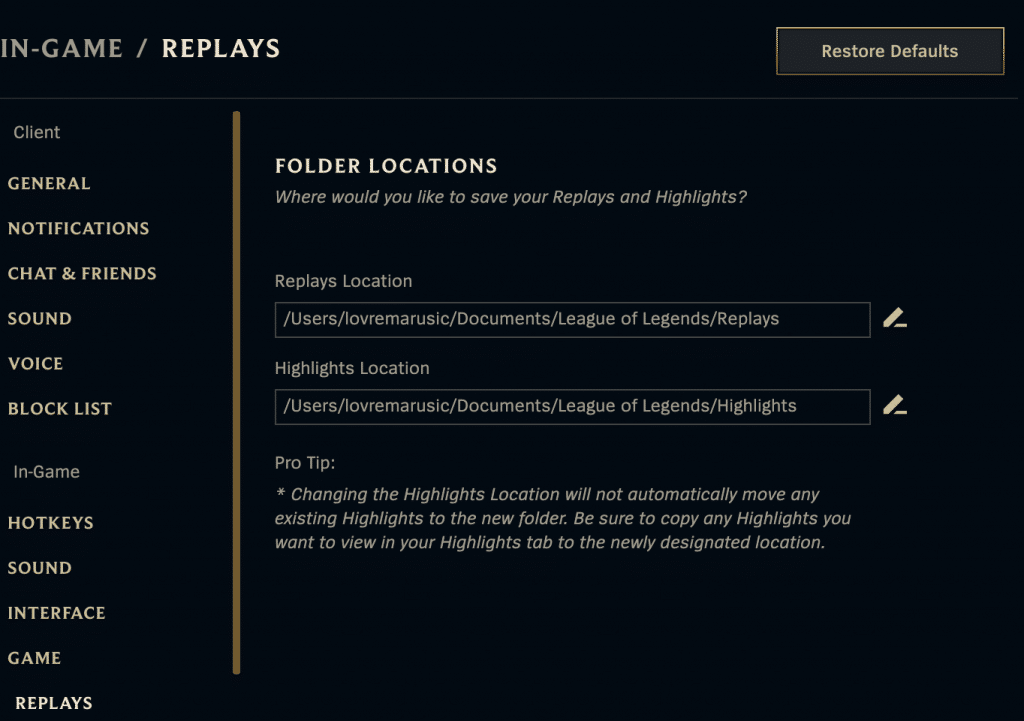 Since you saved the game, you definitely want to jump in and watch your sweet moves. But first you need to know the exact location of that file, which can be played or found on your computer, in case you don't, your playbacks will be saved as .ROFL files by default. You can locate the files by going to your settings menu in the LoL Client. On the left side, click "Playback". Once you've done this, you'll see the default folder where both Replays and Highlights are located. You can navigate to them or change them to something easier for you – this is completely up to you.
League of Legends Game Recording Methods
1) Streaming App
I don't think I've ever mentioned this, but streaming can be a good form of income if you know what you're doing and can provide epic content or game footage. If you are on your way to making a profit for your gaming career, then the streaming feature will be great for you. You can use apps like OBS Studio which will allow you to record your League of Legends play in real time so all your fans can follow you as you play . Alternatively, if you're comfortable with it, you can use the webcam so your fans can see your reaction as you play League of Legends.
2) Screen Recording
There are plenty of screen recording apps you can use, such as Nvidia GeForce Experience – this is the default app you can use if you're using NVidia's GPI. This will allow you to record League of Legends, or any other game, in real time. This means that functions such as chat and voice communication will also be displayed in the video.
3) Video editing software
One of the best ways to capture the highlights of your game is to use video editing software. The screen capture video file can be used so you can show all the functions you want others to see and cut out the scenes you don't really care about. This means you can make a nice little compilation of two or more of the best plays you've got in the game.frequently asked Questions
Extra tips
The hotkeys you'll want to remember are:
The 1,2,3,4,5 or Q, W, E, R, T keys will move between different champions.
CTRL + V starts and stops recording your markup.
Pushing 1,2,3,4,5 or Q, W, E, R, T twice will lock the camera on that champion.
Once you've locked the camera on a specific champion, you'll notice that the marks on the kill timeline get a little brighter, while the other landmarks on the screen fade into the background. Hopefully this will make it easier for you to find that certain moment you're looking for in the match.
What about video quality settings?
By default, highlights will be captured at 720p. However, there are options in the game that allow you to choose the video quality in which you want to capture the highlights. You can easily adjust these settings in-game while watching a Replay video or before you start recording League of Legends Highlights.
Inference
That's it all – now you know everything you need to know to start recording/saving your game. Now you can have all those epic plays on video and share them with your friends.
Last, Wallx.net sent you details about the topic "How to find your League of Legends replays & highlights❤️️".Hope with useful information that the article "How to find your League of Legends replays & highlights" It will help readers to be more interested in "How to find your League of Legends replays & highlights [ ❤️️❤️️ ]".
Posts "How to find your League of Legends replays & highlights" posted by on 2021-08-13 01:46:07. Thank you for reading the article at wallx.net