Where To Stay In Hiroshima – Our Favourite Areas & Hotels
Are you planning to visit and stay in Hiroshima? Here we give you our where to stay in Hiroshima guide with what we consider to be the best hotels in Hiroshima and our favorite areas to stay in. All the hotels in this article are well located in order to explore Hiroshima's main attractions as detailed in our what to do in Hiroshima guide.On the coastline of Western Honshu (Japan's main island), San-yo, which literally means "sunny side of the mountain," you find the modern metropolitan city Hiroshima. With its 1,2 million inhabitants, it is a vibrant, warm-hearted port city looking southward out over the Inland Sea.Hiroshima is most famous for its sad and horrific history of being hit by the world's first atomic bomb on the 6th of August 1945. Although the city reflects this tragedy, modern-day Hiroshima is a joyful city with a lot to offer its visitors – from art museums to lovely parks, Hiroshima Castle, and the fantastic Shukkeien Japanese Garden.The lovely Peace Memorial Park and Museum is the big attraction in HiroshimaHiroshima is a compact city where most of its sights and attractions can be reached by foot from Hiroshima Station or by the city's excellent public transport – the city tram and sightseeing loop bus.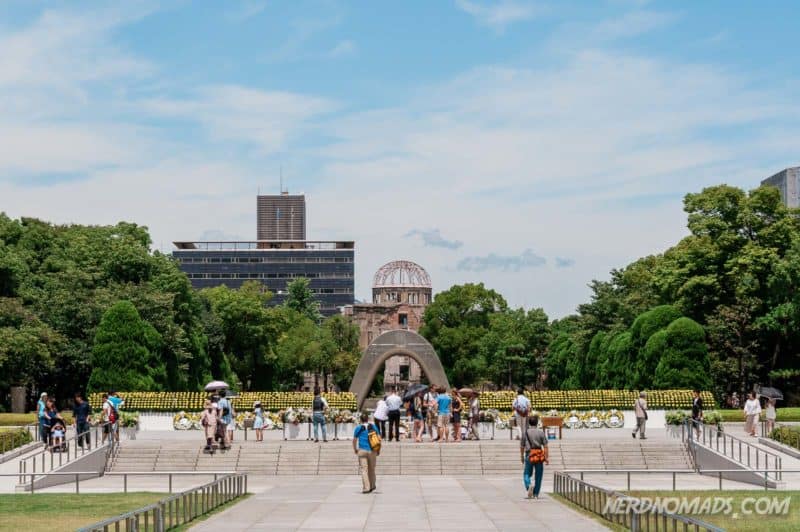 The wide Peace Boulevard runs through HiroshimaAlthough Hiroshima can be visited as a day trip from, for instance, Kyoto or Osaka, it's worth spending a night or two here to fully explore the city and its surroundings, like the famous floating Tori gate on Miyajima Island.We have been to Hiroshima many times over the years, including once to participate in the annual Peace Memorial Ceremony, and have stayed at several of Hiroshima's hotels. So we decided to put together this guide on where to stay in Hiroshima with all the little hotel gems that we have discovered. Here we reveal what we think are the best hotels and areas to stay in Hiroshima and why. We have listed our favorite hotels at any budget for each area – Top-End, Mid-Range, and Budget.
Lanterns floating on the river through Hiroshima on the Peace Memorial Ceremony (6th of August)By the way, for more details on what to do in Hiroshima, see our detailed 1-day Hiroshima Itinerary.You can easily stay in Hiroshima for several days and make day trips to interesting places in the area, like Miyajima, Iwakuni (which has Japan's most elegant wooden bridge), Saijo Sake Brewery Town, Onomichi (has Shimanami Kaido – several small islands connected by bridges, popular for walking and bicycling), Sandan Gorge (an 11 km long ravine great for hiking), and Fukuyama city.
Where To Stay In Hiroshima
Whether you are looking for a once-in-a-lifetime luxury hotel, a small stylish boutique hotel, a value-for-your-money business hotel, a budget guesthouse, or a hostel, Hiroshima has it.One thing Hiroshima does lack is the old traditional Japanese inns called ryokan that you'll find in for instance Kyoto. Probably because most of them got destroyed in the atomic bomb attack. So if you plan on trying out a ryokan on your Japan journey, you should book one in, for instance, Miyajima (a 45 min train + ferry ride from Hiroshima) or Kyoto.Hiroshima is fairly affordable when it comes to accommodation, and you get more for your money compared to, for instance, Kyoto and Tokyo. So Hiroshima is one of the Japanese cities where you can splurge a little and get a fantastic four-star hotel for a reasonable price.Important: None of the hotels recommended here are paid placements or have sponsored our stay in any way. We always pay for our own travel. If you book through any of the links in this article, we make a small commission at no extra cost to you. This helps keep our site running – so thank you in advance for your support! ♥We hope you find this guide helpful in finding the best place to stay in Hiroshima!
The 2 Best Areas To Stay In Hiroshima
The map above: The best hotels and areas to stay in Hiroshima – Downtown Hiroshima Area (black) & Hiroshima Station Area (purple)We have divided Hiroshima city into two areas – Downtown Hiroshima and Hiroshima Station. For each area, we have listed our favorite hotels.Click on the table of content below, or scroll down in this article to read more about each area and hotel.Hiroshima's accommodations are mostly clustered in these two areas of the city:
Hiroshima's downtown Near Peace Memorial Park and Museum, Aioi-Dori Avenue, and Peace Boulevard/ Heiwa-Odori Street
JR Hiroshima Station
Hiroshima is, however, a compact city, so all the attractions are only a short walk, bus ride, or tram ride away no matter where and which area you choose to stay.For each area, we have categorized the hotels into three price levels (which usually also reflects their number of stars):
Top End – 5 stars – US$ 200 and above
Mid-Range – 3-4 stars – US$100-200
Budget – 2-3 stars – US$ 20-100
The price range for each hotel will of course vary by season, day of the week, and during public holidays.The following two areas are the best areas to stay in Hiroshima (in our opinion):
1. Downtown Hiroshima
The downtown area of Hiroshima includes the Peace Memorial Park and Museum, Hon-Dori Arcade shopping and restaurant street, and the Aioi-Dori Avenue and Peace Boulevard/ Heiwa-Odori Street. This area has lots of restaurants, cafes, and shops.Hiroshima's main attractions, the Peace Memorial Park, Peace Memorial Museum, and Atomic Bomb Dome are all in this area.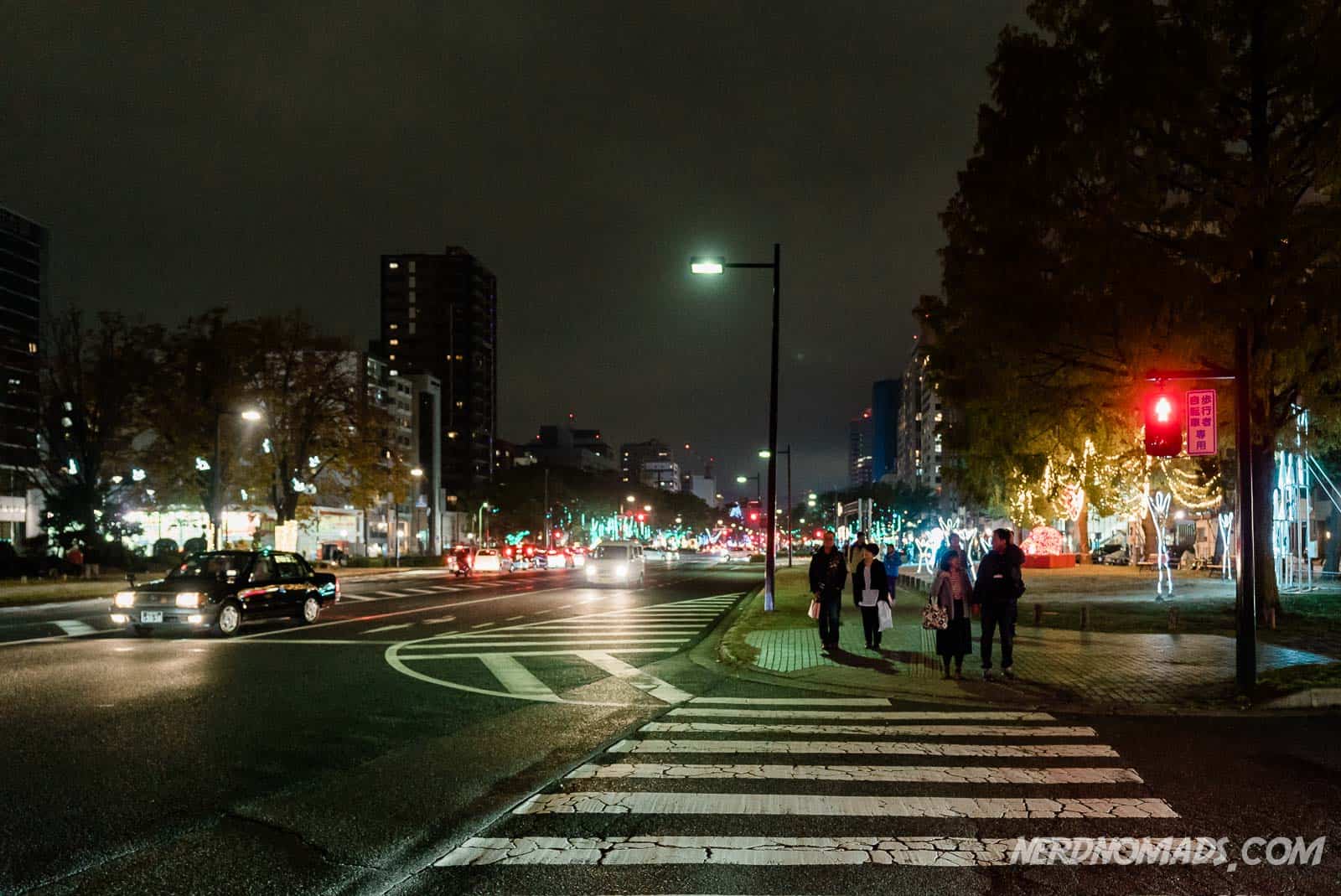 The famous Atomic Bomb Dome and Peace Memorial Park & Museum are in the Downtown Hiroshima Area.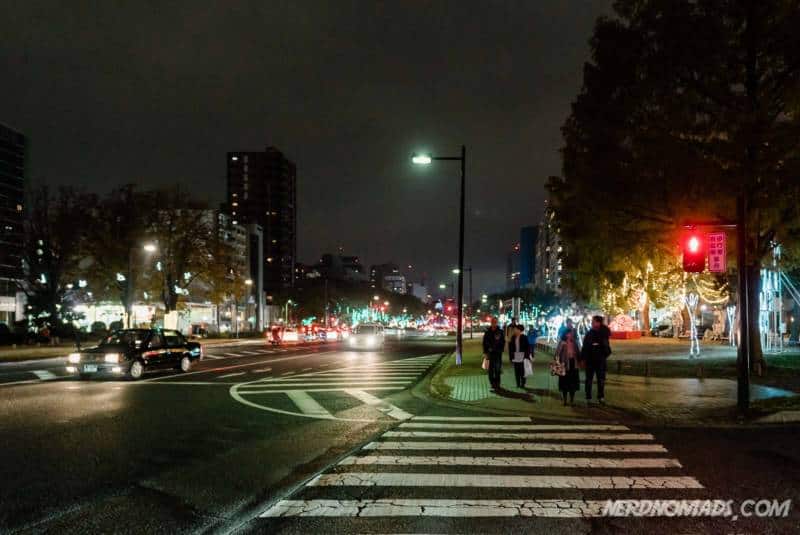 The popular Hon-Dori Arcade shopping street is a great place to go shopping and diningHiroshima is a great city for a weekend out. You will find most bars, pubs, and karaoke joints in the city's entertainment district between Aioi-Dori and Heiwa-Odori streets. Most places serve a light meal or snack, and some even have live music.In November and December, the Peace Boulevard is beautifully illuminated by thousands of led light art exhibitions. The illumination winter festival is called Hiroshima Dreamination.
In November and December, the Peace Boulevard in downtown Hiroshima is beautifully illuminatedWhy Stay In The Downtown Area Of Hiroshima?If you want to be right in the heart of all the action and within a very short walking distance to all of Hiroshima's main sights and attractions, you should stay in the downtown area of Hiroshima. Then you can easily go back to your hotel for a rest and a quick nap in between the sightseeing, change clothes, or re-pack if you plan on heading on an afternoon trip to for instance Miyajima Island.When staying in Hiroshima's downtown area, you also are close to lots of restaurants, cafes, pubs, shops, and nightlife. You can stay out late without having to worry about when the last bus leaves or grabbing a taxi.Things To See And Do In Downtown HiroshimaYou can easily walk between the attractions and sight in the downtown area.
Hiroshima Peace Memorial Museum Hiroshima Peace Memorial Museum is the most popular attraction in Hiroshima and a must-visit. Hiroshima's tragic history of being hit by the world's first atomic bomb in 1945 is the museum's main theme.
Hiroshima Peace Memorial Park The park surrounds the Peace Memorial Museum and is tucked in by two rivers. The park is a lovely place to go for a stroll and see all the peace memorial statues and monuments like the Flame of Peace, Cenotaph, and Peace Pond.
Atomic Bomb Dome The landmark of Hiroshima. The dome stood right below the atomic bomb's epicenter and was the only remaining building after the explosion. The remaining shell of the building is kept as a memorial.
Hiroshima Castle A reconstruction of the original Hiroshima Castle that got destroyed by the atomic bomb. Nice city view from the top floor of the castle.
Okonomi-mura Okonomimura is the place to head to try out Hiroshimas famous specialty, okonomiyaki or Hiroshima-yaki, a sort of Japanese pancake. Here you will find 23 stalls spread over three floors serving the delicious okonomiyaki.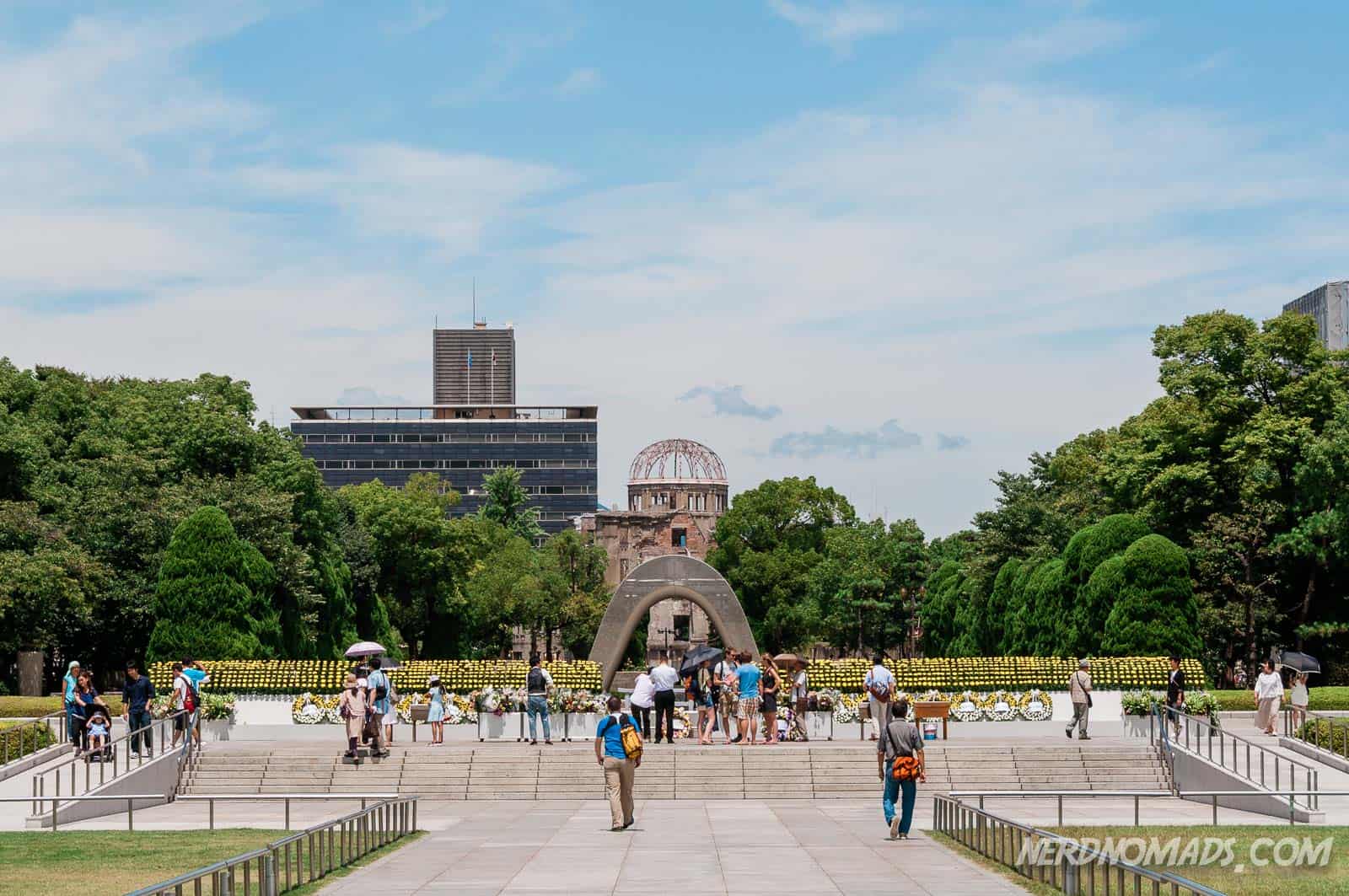 The beautiful Hiroshima Peace Memorial Park is the star attraction in Hiroshima.What's The Catch?The streets in Hiroshima's entertainment district can get a bit noisy and crowded in the evenings, especially during weekends and public holidays.Where To Stay In Downtown Hiroshima AreaMid-RangeKIRO Hiroshima by THE SHARE HOTELS This newish (opened in July 2019), super chic, and modern hotel is located close to Hiroshima Peace Memorial Museum & Park (a 13-min walk) and the restaurant and shopping area of downtown Hiroshima. It is easily accessible from Hiroshima Station with the city tram or taxi.I love the urban minimalistic hipster-like design of the rooms. If you are traveling with your family or a group of friends, you can go for triple or quadruple rooms with loft or their family rooms with bunk beds for up to six people. The small cafe serves excellent coffee made by baristas. The hotel has a shared kitchen if you'd like to make some food. Click here for the latest pricesThe Knot Hiroshima The 4-star Knot Hotel has an excellent location right by the Peace Memorial Park & Museum. It is brand new (opened in March 2020), and I love its stylish interior, modern, minimalistic, and cozy. This hotel reminds me of a cool boutique hotel in NYC.The hotel has a great restaurant downstairs (try their homemade wooden-baked pizza…..delicious!) and a rooftop bar with a cozy outside area where you can enjoy those warm summer evenings. Excellent value for the money! Click here for the latest pricesNest Hotel Hiroshima Hatchobori A new and stylish hotel (opened in March 2019) with modern rooms. It is an affordable hotel and a great value for your money, although the rooms are small but compact with a clever design. A great bonus is the free coffee. Check-out is 11:00/ 11 am, which is one hour later than most hotels. You can easily walk from the hotel to museums, restaurants, and shops. Click here for the latest pricesRihga Royal Hotel Hiroshima Rihga Royal Hotel Hiroshima offers excellent value for money, and its location is fantastic for exploring Hiroshima. The Peace Memorial Park and the city's buses are both within easy walking distance, and the views overlooking the beautiful Hiroshima Castle are spectacular. Rooms are spacious, well furnished, and comfortable with every modern amenities including free Wi-fi. Breakfast is excellent, and there is even a swimming pool! Click for the latest pricesCandeo Hotels Hiroshima Hatchobori Candeo Hotels is a modern and fresh hotel centrally located within walking distance of the Atomic Bomb Dome, Peace Memorial Park, and public transportation. Rooms are relatively small but tidy, clean, and comfortable. The staff speaks good English, and there is a lovely Onsen/hot bath on the roof, perfect after a long day sightseeing. Click for the latest pricesBudgetHiroshima Washington Hotel A reasonably priced business hotel with a great location close to all the attractions, restaurants, and shops in downtown Hiroshima. The tram station Hatchobori is just a 5-min walk away, and you can walk to Hiroshima Station in 15 min. All rooms have a private bathroom with a small bathtub/ shower. The rooms are not the biggest, but are spotlessly clean and nicely and modernly furnished. Click here for the latest pricesHiroshima Crane Peace Tower Apartment Hotel A fairly new apartment hotel, where all rooms have a fully equipped kitchen, bathrooms, laundry machine, and balcony. The studio apartments can house up to four people, while the two-bedroom apartments can accommodate eight people. It's basic but a good deal for the money. Click here for the latest prices
2. Hiroshima Station Area
Hiroshima Station Area is surrounding Hiroshima's main railway station and transport hub – JR Hiroshima Station. It includes the Kyobashi River with its riverbank park Shukkeien Garden and Hiroshima Prefectural Museum.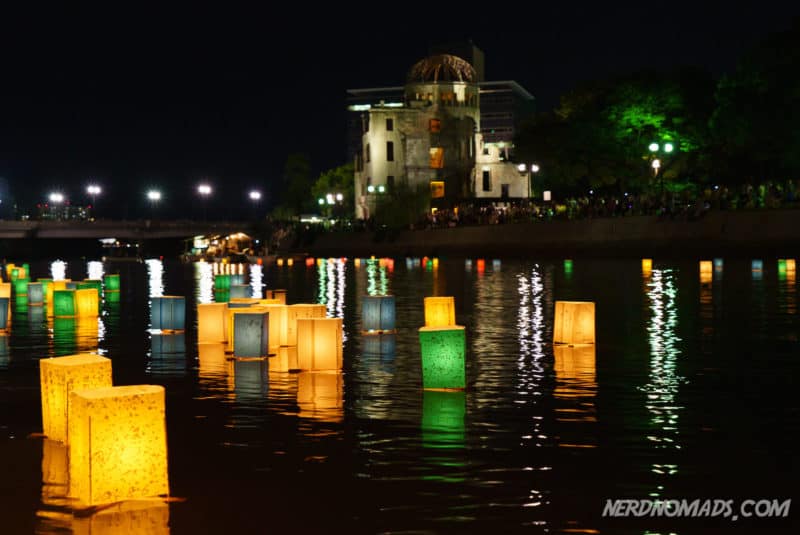 Hiroshima has an excellent electrical railway tram system that quickly takes you around the cityHiroshima Station is a railway station and a shopping mall packed with shops, convenience stores, restaurants, pubs, and cafes.Hiroshima Station has two main entrances – North entrance or Shinkansen/ bullet train entrance and South Entrance. There is a pedestrian tunnel that connects the area in front of the Shinkansen entrance to an underground plaza or shopping mall under the south entrance. The tunnel has shops and restaurants and several exits, where one leads to the Hiroshima Station Tram Stop and the hop-on-hop-off Hiroshima Sightseeing Loop Bus Stop (bus stop no. 1).Why Stay In The Hiroshima Station Area?Staying close to Hiroshima Station gives you convenient access to public transport and makes it easy to get around the city and surrounding areas like Miyajima Island. The city tram and the sightseeing loop bus also depart and arrive at Hiroshima Station.You will most likely arrive in Hiroshima at this station, so staying close to the station makes it easy and quick to get to your hotel. When leaving Hiroshima, on an early morning train or a late evening train, it is quick and easy to get to your train, and you don't have to get up that early.Things To See And Do In Hiroshima Station Area
Shukkeien Garden The lovely 400-year-old Japanese garden is only a 6-min walk from Hiroshima Station. The Shukkeien Japanese Garden is stunning, especially in autumn, when the leaves turn into a colorful spectacle of red, yellow, and orange.
Hiroshima Prefectural Museum An art museum with over 4500 different art pieces. The museum is located a 12-min walk from Hiroshima Station, next to Shukkeien Garden.
Shukkeien Garden, close to Hiroshima Station, is one of the most beautiful gardens in Japan.What's The Catch?Except for Hiroshima Station, which has restaurants and shops, most dining and shopping options are in downtown Hiroshima (a 30 min walk or a 15 min tram or bus ride away).There is not that much nightlife in the Hiroshima Station area. So if you are in Hiroshima to party and want to walk back to your hotel at night, you should stay in the downtown area of Hiroshima instead.Where To Stay In Hiroshima Station AreaTop EndSheraton Grand Hiroshima Hotel We stayed at the Sheraton Grand Hiroshima Hotel on our last visit, and it was fantastic! Located just next to JR Hiroshima Station (1-min walk on the connecting walkway), Sheraton Grand Hiroshima Hotel is a great 5-star luxury hotel that has it all. Here you can enjoy the indoor swimming pool, fitness center, and four restaurants.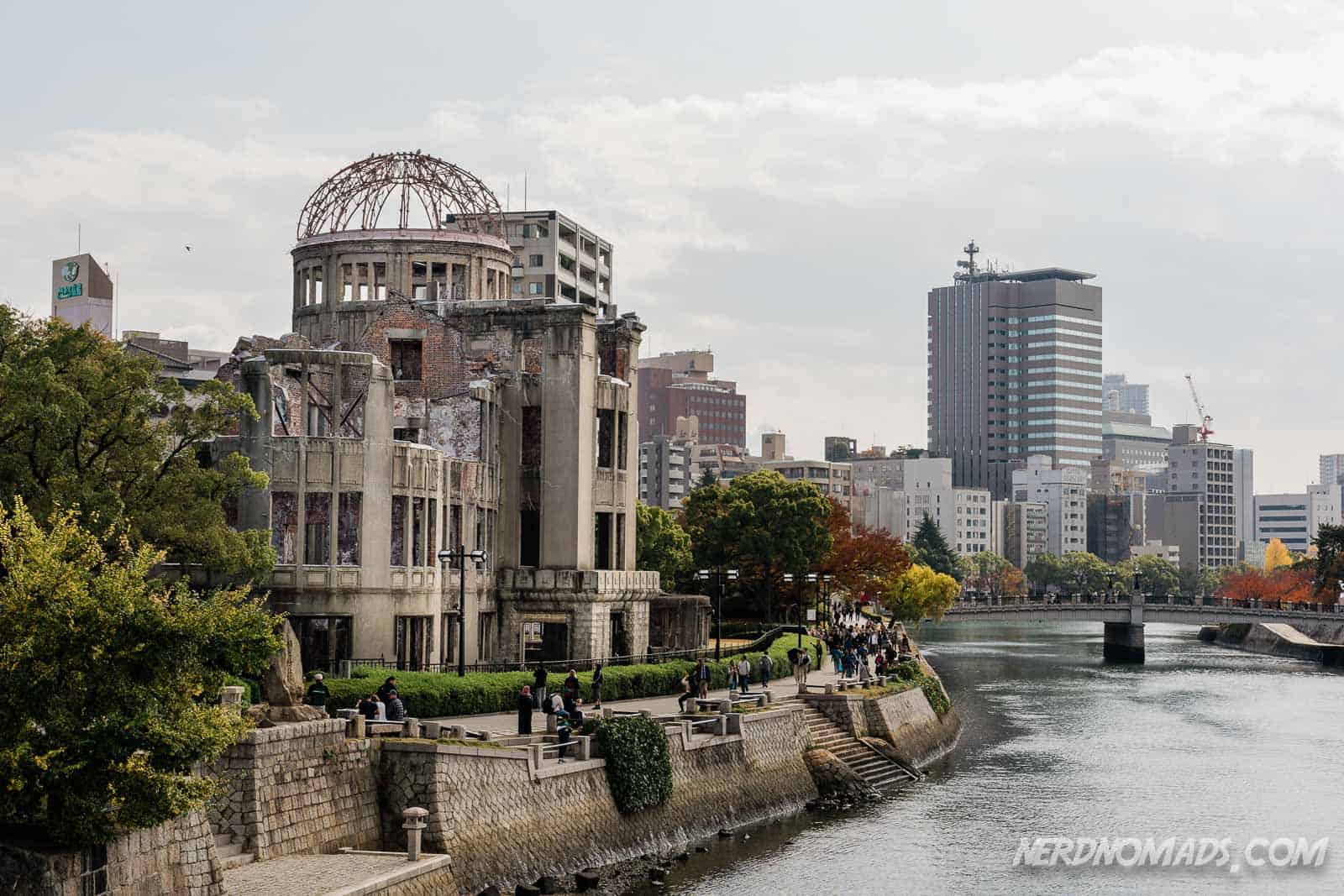 Our big and comfortable room at Sheraton Grand Hotel HiroshimaOur room was huge and comfortable, more like American-size, with an amazing city view. The big breakfast and dinner buffet offers a wide selection of western and Asian food. You will not go wrong by staying here. It was one of the best hotels we have stayed at in Japan; we did not want to leave. Click here for the latest pricesMid-RangeHotel Granvia Hiroshima With a direct connection to the JR Hiroshima Shinkansen (bullet train) Station, Hotel Granvia has a convenient location and great value for your money. The hotel has six restaurants, a massage service, and a small gym. The uppermost rooms have a fantastic view of the city and the station. Click here for the latest pricesBudgetK's House K's House operates hostels in a few cities across Japan, and we've always found them to be quite excellent, with friendly and helpful staff and clean and comfortable rooms. This one is thankfully no exception. The JR train station and a tram station are just a short walk away, making it a great base for exploring the city. There are both dormitory-style rooms, as well as western-style private rooms with bathrooms available. Click for the latest pricesThere you have it, our favorite Hiroshima areas and accommodations with our recommended Hiroshima hotels. Hopefully, you now know a bit more about Hiroshima's neighborhoods, and deciding on where to stay in Hiroshima has become a little easier.Make sure to check out what you should not miss when visiting Hiroshima in our recommended 1-day Hiroshima itinerary.Read next, our other articles about Hiroshima: ⇒ What To Do In Hiroshima – A 1-Day Hiroshima Itinerary⇒ Hiroshima Peace Memorial Museum & Park⇒ Autumn Colors At The 400 Years Old Shukkeien Garden, Hiroshima⇒ 10 000 Lanterns At The Peace Memorial Ceremony – HiroshimaI would also recommend that you do a trip to Miyajima from Hiroshima. Read our articles about Miyajima Island:⇒ What To Do In Miyajima – A 1-Day Miyajima Itinerary⇒ A Journey To The Sacred Mount Misen – Miyajima RopewayHave a fantastic stay in Hiroshima! ♥PIN IT FOR LATER! Hover over the pictures below and click the red "Save" button that pops up: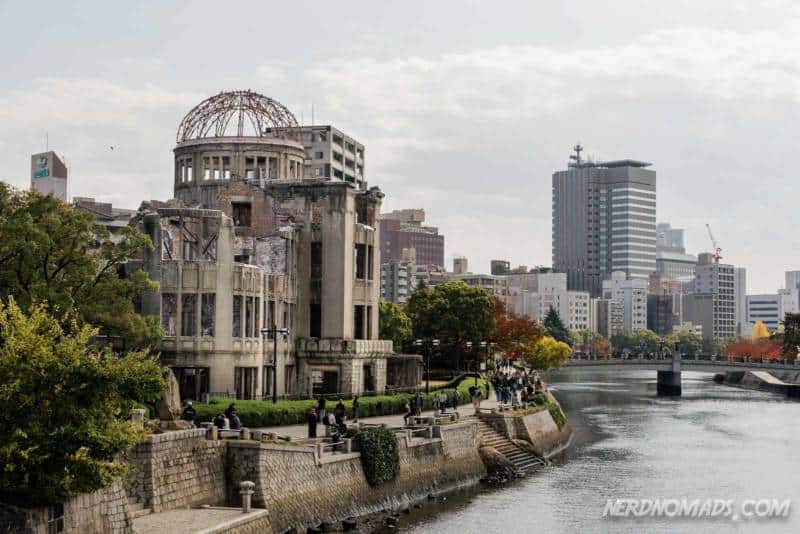 Pin
Pin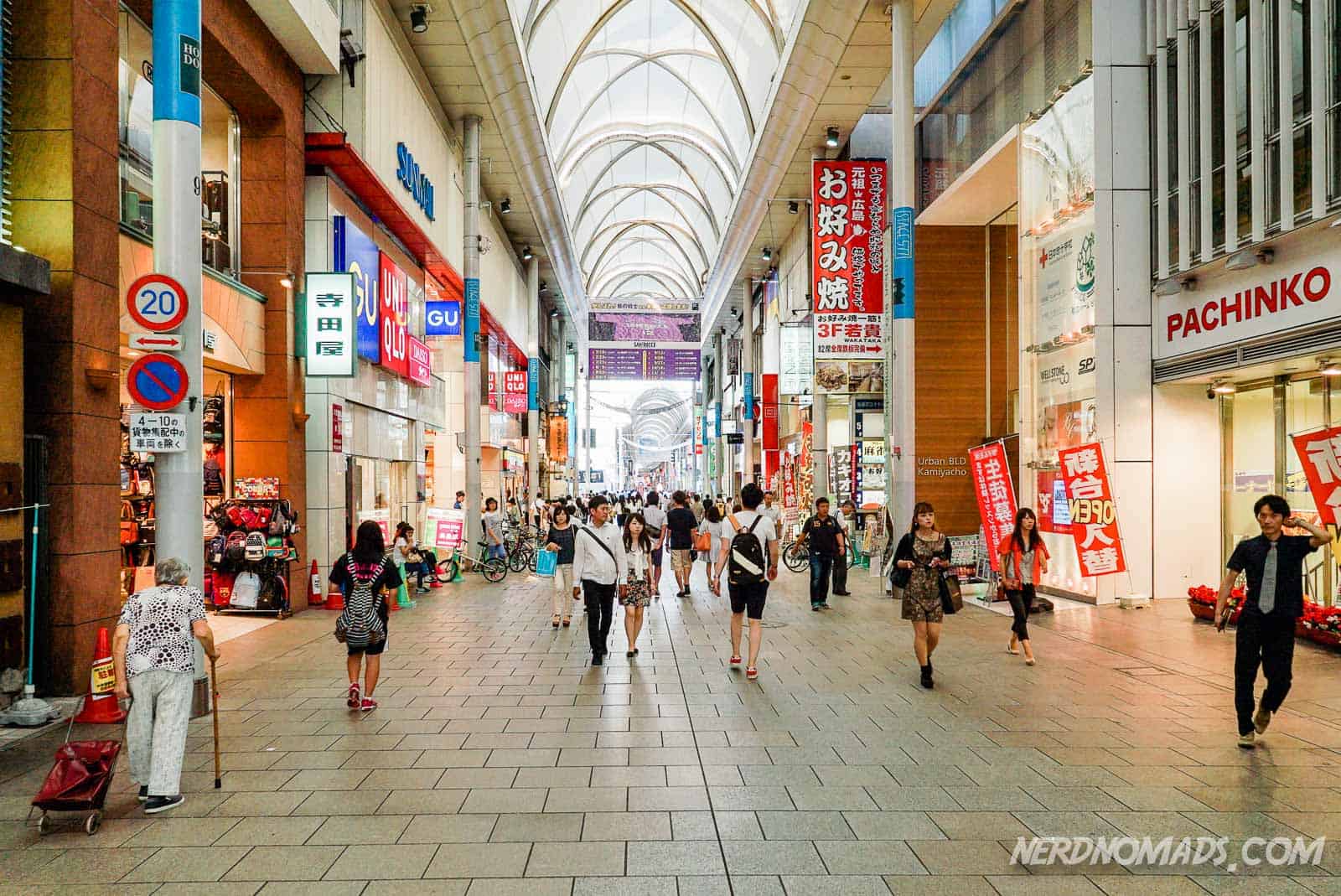 Pin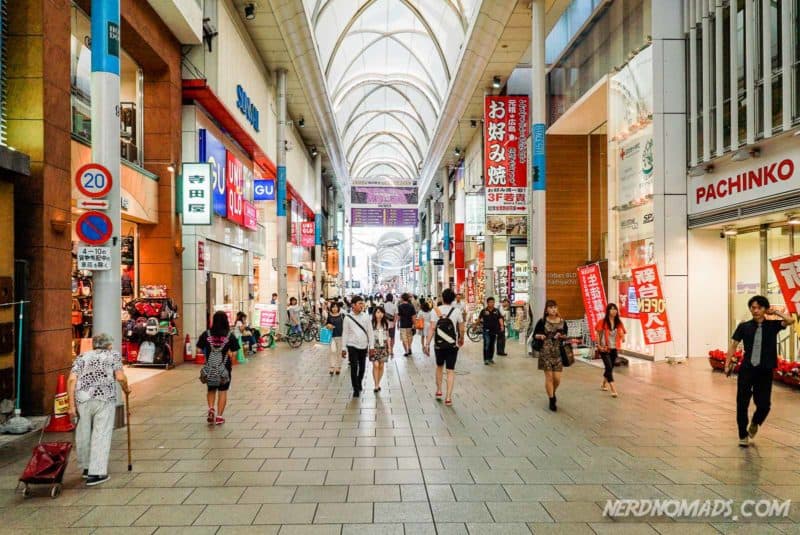 PinWe intend to add more hotels and info about Hiroshima to this Hiroshima hotel guide in the future. So please let us know if you have any suggestions and tips about Hiroshima! What is your favorite area and hotel in Hiroshima? Do you miss any information in this "Where to stay in Hiroshima" guide? Please leave a comment in the comment area below. We would love to hear from you! Thank you! Disclosure: Some of the links in this article are affiliate links, and we will earn a small percentage of the sale if you purchase through them at absolutely no extra cost to you! This helps us keep the content up to date, create new travel guides, and keep the website going. Thank you! ♥ For more information, see our disclosure here.
Last, Wallx.net sent you details about the topic "Where To Stay In Hiroshima – Our Favourite Areas & Hotels❤️️".Hope with useful information that the article "Where To Stay In Hiroshima – Our Favourite Areas & Hotels" It will help readers to be more interested in "Where To Stay In Hiroshima – Our Favourite Areas & Hotels [ ❤️️❤️️ ]".
Posts "Where To Stay In Hiroshima – Our Favourite Areas & Hotels" posted by on 2021-08-13 11:46:11. Thank you for reading the article at wallx.net