Why does iTunes keep duplicating my playlists?
Both iTunes and now the Music app have long been the best ways to manage your music library on your Mac. Except for one big annoyance – it randomly duplicates your playlists. While it doesn't really affect iTunes performance, it's still cumbersome when you're trying to keep things organized. You'll learn why iTunes creates duplicate playlists and what you can do to clean them up.
Why does iTunes create duplicate playlists?
Playlists are frequently duplicated in iTunes due to syncing issues. Usually, if you edit or modify a playlist on your iPhone or iPad and then sync it to your Mac, that's when the error occurs. That includes adding new music to a playlist or even just changing the song information on one of the tracks.
How to delete duplicates on Mac
If you notice other duplicate files on your Mac, you can use a duplicate finder app, like Gemini 2, to help you quickly remove them. Whether you have duplicate songs in iTunes, photos in Photos, or just regular files in the Finder, Gemini 2 can find and remove them. The best part is that you can try Gemini 2 for free. Once you've downloaded and installed it on your Mac, just follow these steps:
Open Gemini 2.
Click +.
Select a folder you want to scan.
Then click Scan for duplicates.
Once the scan is finished, Gemini 2's algorithm chooses the best version of each file and lets you get rid of the rest with a single click of the Smart Clean button. Or, if you want to see what files Gemini 2 found, you can click Review Results. You will then be able to view the files and decide which files you want to keep versus the duplicates you want to remove.
How to remove duplicate playlists in iTunes
Unfortunately, I don't have better news when it comes to removing duplicate playlists. You'll have to sift through your playlists and manually delete them one by one. But, thankfully, the process of removing them is relatively simple. Here's how you remove duplicate playlists from your Mac:
Open iTunes.
In the sidebar, right-click or Control-click the duplicate playlist.
Click Delete for Library.
You'll also want to remove duplicate playlists from your iPhone and iPad. If you leave them on those devices, they're likely to come back the next time you sync your devices. Follow these steps to remove duplicate playlists on your iOS and iPadOS devices:
Open the Music app.
Tap Library > Playlists.
Find a duplicate playlist. Then tap and hold on it.
Tap Remove from Library.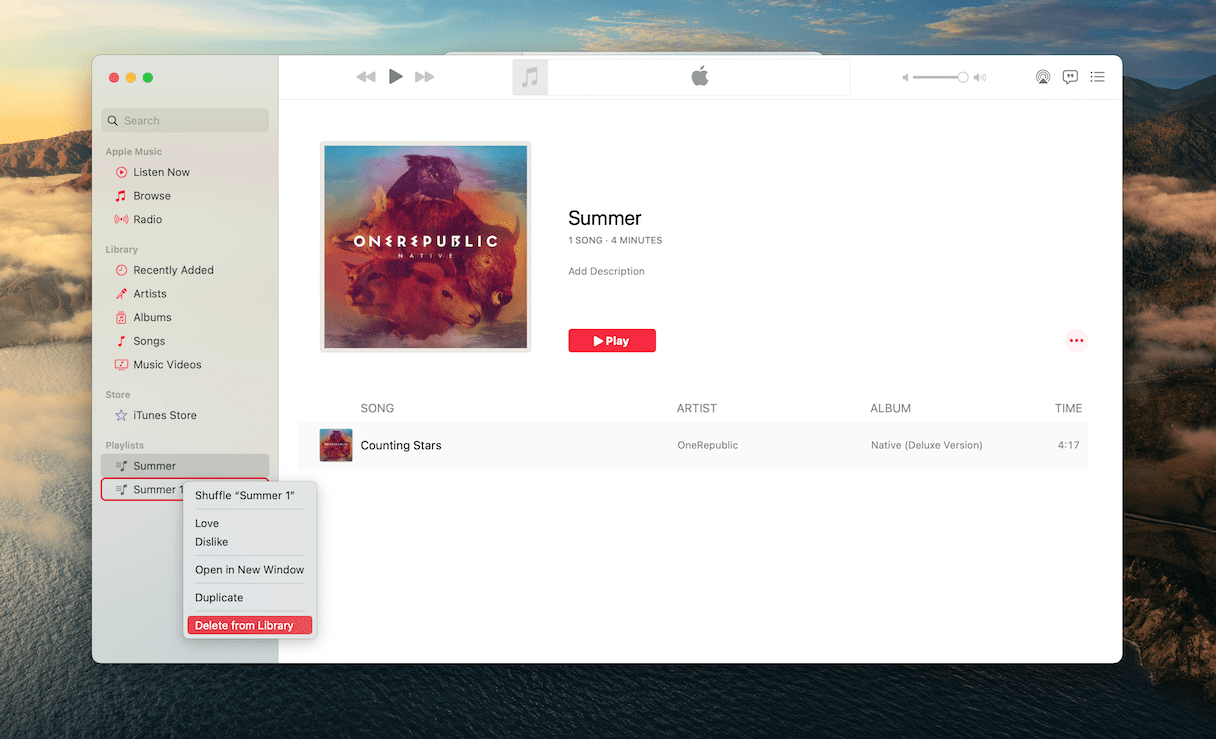 How to prevent iTunes from copying playlists
Now that you've cleaned up all those duplicate playlists, you're probably wondering what you can do to prevent it from happening again. You're lucky. I have some tips that might help you.
Tip 1. Turn off Auto-Sync when this iPhone is connected.
While this feature is supposed to make life easier, it can be a headache for duplicate playlists. Connect your iPhone or iPad and follow these instructions:
Open iTunes.
Click the iPhone icon.
Then go to Summary > Preferences.
Uncheck the option to Sync automatically when this iPhone is connected.
Click Apply.
Tip 2. Turn off Sync Gallery
Another potential sync error can occur if you're using Apple Music or iTunes Match to automatically sync your library. You will have to disable this feature on all your devices.On your iPhone
Open the Settings app.
Tap Music.
Turn off the Sync Library option.
On your Mac
Open iTunes or the Music app.
Click iTunes/Music > Preferences.
Go to the General tab.
Uncheck Sync Library.
Click OK.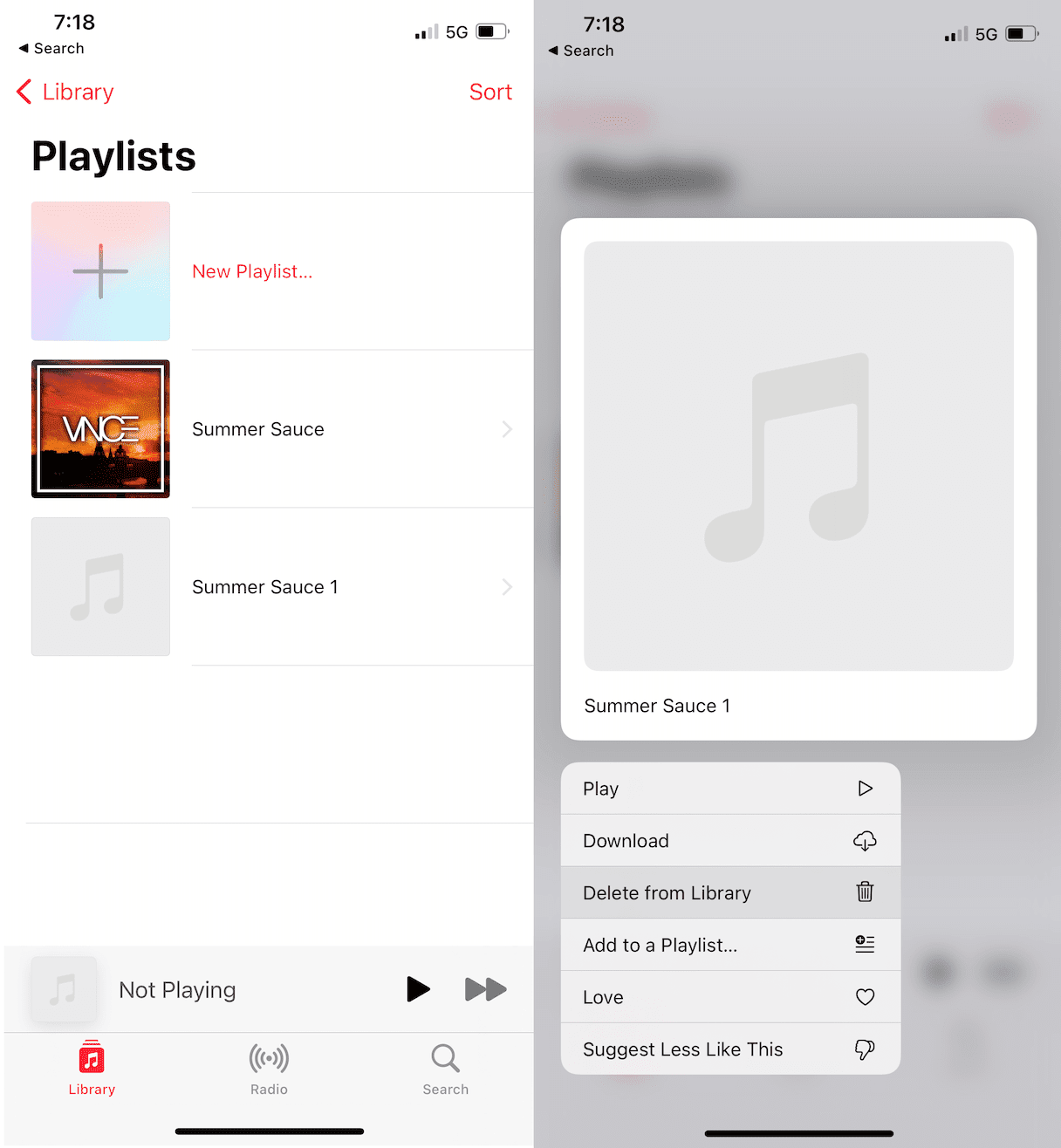 While duplicate playlists won't affect iTunes' performance, it can be more frustrating to use. The cluttered and unorganized your library is, the less likely you are to want to use it. All that said, now you know how to clean up those duplicate playlists. And you've learned how to prevent more duplication from happening in the future.
Last, Wallx.net sent you details about the topic "Why does iTunes keep duplicating my playlists?❤️️".Hope with useful information that the article "Why does iTunes keep duplicating my playlists?" It will help readers to be more interested in "Why does iTunes keep duplicating my playlists? [ ❤️️❤️️ ]".
Posts "Why does iTunes keep duplicating my playlists?" posted by on 2021-08-12 17:28:13. Thank you for reading the article at wallx.net