Where to Stay in Ibiza: 10 Best Areas
Table Of Contents
Where to stay in Ibiza: 10 Best Places to Stay in Ibiza
1. Ibiza Town, where to stay in Ibiza for sightseeing
2. Playa d´en Bossa, best place to stay in Ibiza for nightlife
3. Cala Talamanca, sandy beach and crystal clear water next to the capital
4. San Antonio, where to stay in Ibiza on a budget
5. Cala Tarida, quiet beach resort
6. Santa Eulalia, best place to stay in Ibiza for families
7. Cala Llonga, family oriented beach resort
8. Es Canar, coolest place to stay in Ibiza
9. Portinatx, where to stay in Ibiza for couples
10. San Carlos, authentic Ibiza village
Ibiza is among the three largest of the Mediterranean Sea based Balearic Islands. It has justifiably gained an unrivaled reputation for the best nightlife at least in Spain. Some of the biggest and most important nightclubs in Europe have established long term satellite locations in San Antonio and Ibiza Town. One significant advantage for visitors is that there is no shortage of attractive options for where to stay in Ibiza.Though Ibiza remains among the smallest of Spain's Balearic Islands, it boasts its own rich indigenous culture that merges classic Spanish elements with its own homegrown island traditions. On the coasts you have seemingly never ending sun soaked beaches, while in the interior are beautiful vistas and landscapes. The enduring beauty of the island is so astounding that the classic film South Pacific was filmed in the northern part. For nature lovers, this is one of the best places to stay in Ibiza.Most visitors these days come to Ibiza for its legendary nightlife that pulses and pounds in the summer months from May to September. Deejays from across the globe come to participate in this one of a kind scene and compete to be the best.Enormous numbers of club goers (even 5,000 individuals in a single super club venue is common) fill the island to dance to what is billed as among the most famous dance music in the world.Yet the paradox is that Ibiza also is the home of calmer beaches, yoga retreats, and quiet villages. There is no shortage of sandy coves that adjoin with hills covered in pine trees around the island's breathtaking coastlines.The island towns are a treat to wander through, constantly humming with vitality and excitement. A few of the bigger towns such as San Antonio de Portmany and Santa Eularia have been outfitted with plenty of facilities and infrastructure for the tourists.The island capital Ibiza Town serves up a more authentic slice of island life. Its old town center and charms are UNESCO world heritage recognized and not to be missed.The island's restaurants offer all kinds of cuisine, ranging from traditional Balearic Spanish drink and food beloved by the local inhabitants to experimental fusion types of cooking.The biggest dilemma in coming here is to figure out which are the best areas to stay in Ibiza. Fortunately for readers, we cover this need extensively. We look at the best areas to stay in Ibiza next.
Where to stay in Ibiza: 10 Best Places to Stay in Ibiza
Different parts of the island offer a varying pace of excitement. Others appeal more to singles and couples than to families with children. Here we consider where to stay in Ibiza in ten individual towns and villages found throughout the island.
1. Ibiza Town, where to stay in Ibiza for sightseeing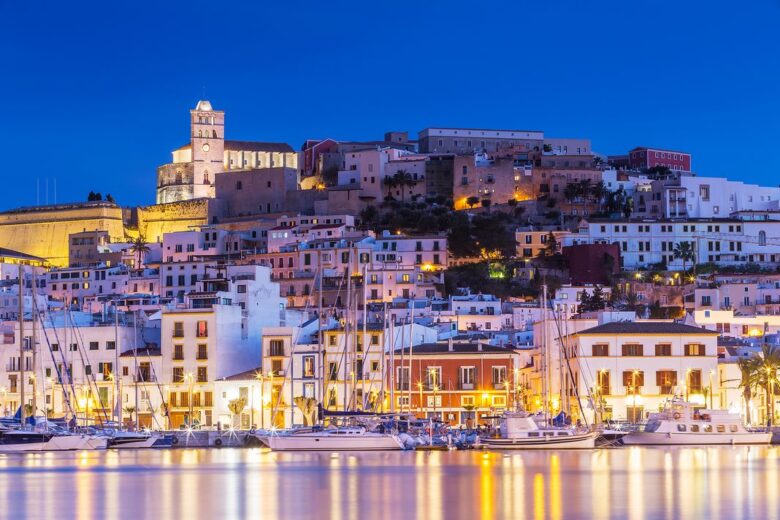 If you are a first time visitor to this island, then Ibiza Town is the best place where to stay in Ibiza. This is because this settlement is the primary city on the island. To some it appears a little quiet, but this is only on the surface. The capital is both fun and lively. It also offers you the authentic Ibiza.A significant appeal to the town is that it has carefully maintained its original historical sites. The narrow streets give it plenty of old world European charm that you simply do not see on other parts of Ibiza.It helps to explain why Ibiza Ciudad is a deserving UNESCO World Heritage site. The Dalt Vila is the name of the old town sitting atop the hill.Food lovers will appreciate the city for its hideaway restaurants and cafes bursting with Spanish and Mediterranean cuisine. Lovers of party clubs will find the original super club of Ibiza called Pacha in Ibiza Ciudad.This legendary locale opened in 1973 and still holds its own with the newer establishments around the island. Dee-jays performing here include first rate names such as David Guetta, Calvin Harris, and Alesso.While in Ibiza Ciudad, you do not want to miss climbing up the hill to see the original Old Town. The Cathedral de San Maria is well worth visiting as well. Talamanca Beach is close enough to enjoy a day in the sand and sun.One of the reasons this is among the best places to stay in Ibiza is that the city offers a , from a hostel to budget, mid-range, and high end hotels.BEST PLACES TO STAY IN IBIZA TOWN
(€€€) Gran Hotel Montesol Ibiza, Curio Collection by Hilton
(€€€) Hotel Mirador de Dalt Vila
(€€€) Sir Joan Hotel
(€€) Hotel Náutico Ebeso
(€) Hostal Residencia Molins Park
Read also: Best things to do in Ibiza
2. Playa d´en Bossa, best place to stay in Ibiza for nightlife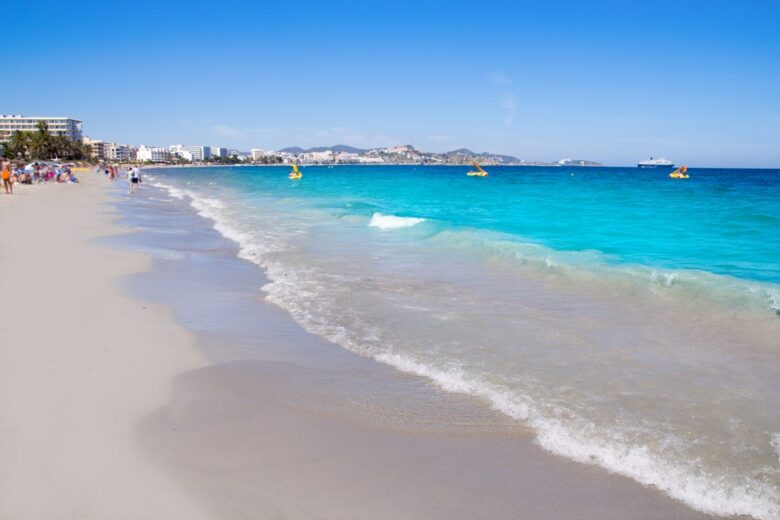 This is the best of the areas to stay in Ibiza for those who like to party hard. Playa d´en Bossa lies a quick drive to the south of the Town of Ibiza. Besides being famous for party clubs, it also boasts the longest running expanse of white sandy beach on the island.This explains how so many bars and clubs became established in the town. Many of these are now the most famous party clubs on the island.Here you will find the largest outdoor super club Ushuaïa. By day the pool is a tantalizing draw, while in the evening among the top named Dee-jays on the planet perform here.After the day party clubs have closed up, the night time clubs begin to rock this town as only Ibiza clubs can. The appeal to booking a room in Playa d´en Bossa is that it makes it easy to sleep after an exhausting all night revelry in the dance clubs.Besides the dancing scene, Playa d´en Bossa offers a good water sports selection including jet ski, catamaran, and stand up paddle rentals.The biggest sandy beach on the island means that you will not lack space to stretch out here as you enjoy some of the calmer music from the nearby (on the beach) clubs by day.There are not any hostels in this town, but it does offer you a range of budget priced to mid-ranged hotels.BEST PLACES TO STAY IN PLAYA D´EN BOSSA
(€€€) Grand Palladium White Island Resort & Spa – All Inclusive 24h
(€€€) Hard Rock Hotel Ibiza
(€€)The Ibiza Twiins
(€)Club Can Bossa
3. Cala Talamanca, sandy beach and crystal clear water next to the capital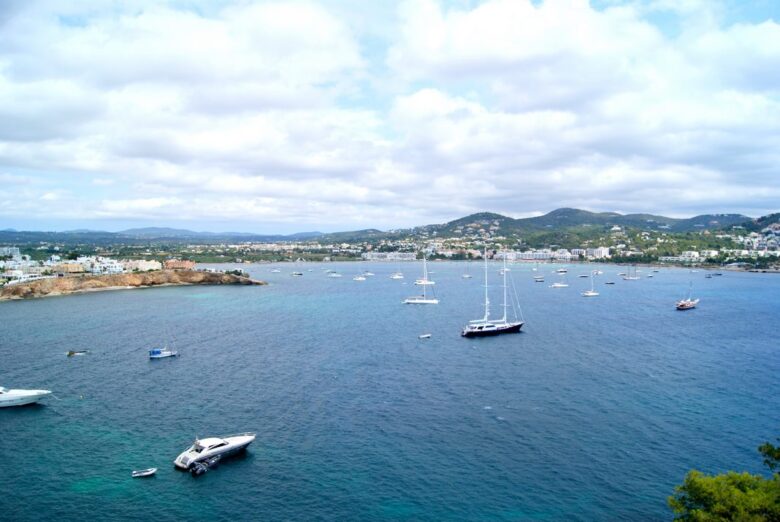 The appeal to Cala Talamanca is that the little resort offers relaxation in a paradise setting, yet it is conveniently located near some of the island's best action. Cala Talamanca lies a mere two kilometers from the town center of Ibiza Town.It is even a short walk to hot spots like super club Pacha and the Marina Botafoch. This helps the beach makeup to be more international than you would otherwise expect.The sandy stretch is long and curving, as if it exists within in its own world. The sandy shelves in this clear bit of water provide for safe swimming and bathing for families with children.Another appeal to the town and beach is the wooden boardwalk that stretches the whole length of Talamanca beach. This means that you do not have to burn your feet on the painfully hot beach sand.At the far side of the bay, this boardwalk turns into a beautiful promenade so that you are well connected to both side of the resort town.The promenade offers a great selection of restaurants and bars. Because some of these remain open all year long, Cala Talamanca is also a popular winter months locale. Visitors and locals enjoy walking along the bay and partaking of lunches in the warming winter sun.The resort is more geared towards adults, though it still remains family friendly enough. Beach facilities are constructed more with adults in mind.The bars play their music, but it is not so loud on the beach. As you get farther from the little resort town, the beach can be surprisingly quiet.The majority of Cala Talamanca hotels lie close to the sea. They provide incredible vista of Ibiza's old town that is easiest to see when the back lights come on after dark. Some of the hotels in this town remain open all the year long too.There is a five star hotel here right on the beach. You can also choose from villas that are self catering, ideal if you bring your family and children.BEST PLACES TO STAY IN IBIZA IN CALA TALAMANCA
(€€€) Nobu Hotel Ibiza Bay
(€€) Hotel Simbad Ibiza & Spa
(€) Lux Isla
4. San Antonio, where to stay in Ibiza on a budget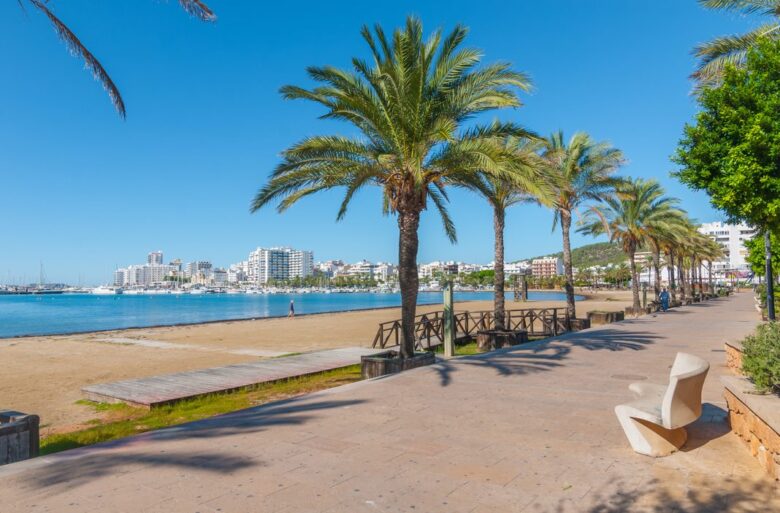 San Antonio is one of two key settlements on the island of Ibiza. It lies along the west coast. You can get to it easily by taking a taxi or bus from either Ibiza Ciudad or the airport.Visitors here like that it provides less expensive accommodation than does the island's south. This makes it an ideal base for backpackers and budget minded individuals traveling in Ibiza.The city itself hosts several iconic hot spots renowned throughout the island. At Cafe del Mar you can relax to ambient music while you dine and watch the sun go down.Ibiza Rocks boasts among the wildest pool parties in Ibiza. During the day, San Antonio offers a calmer fare of a beautiful expanse of a white sandy beach.Some of the best things to do here include lying on the beach by day and enjoying a drink in front of the legendary Ibiza sunset. You can choose to make a wild day out of Ibiza Rocks or simply take in a calm meal to ambient music at Cafe del Mar.For budget minded travelers, San Antonio is where to stay in Ibiza. The town hosts one of a very few hostels found on the entire island. There are also choices of budget level to mid-range hotels offered here.BEST PLACES TO STAY IN SAN ANTONIO
(€€€) Amàre Beach Hotel Ibiza Adults Only
(€€) THB Ocean Beach
(€) Hotel Gran Sol
Read also: Best beaches in Ibiza
5. Cala Tarida, quiet beach resort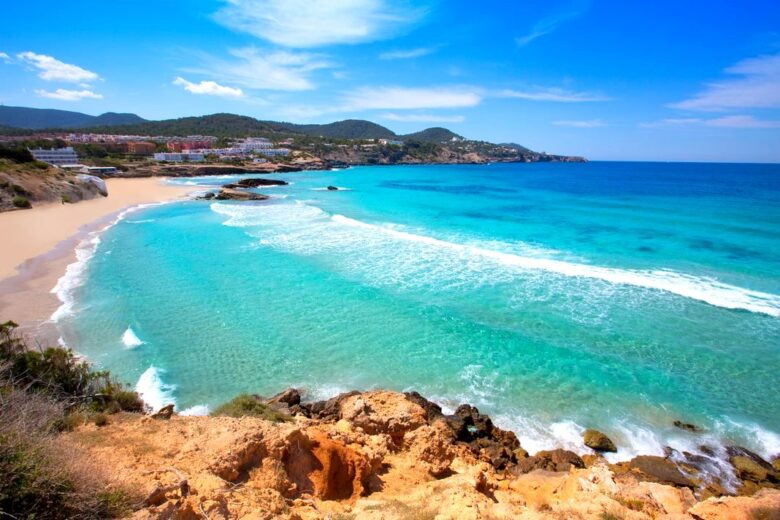 Cala Tarida is more of a family oriented place to stay. The little resort nestles on a sheltered bay and offers both the widest and longest expanse of white sandy beach on its side of Ibiza. Its clear waters swirl over a shallow sandy bottom on one side, making it a great place for families to sunbathe and swim.This combination of shallow sand on one side and rockier, deeper water on the other creates a unique combination of emerald green, azure blue, and turquoise colored waters.Off of the beach here are hills that include a hotel club ideal for families. The resort features enough shops to buy seawater essentials like snorkel equipment and inflatables for all members of the family. You can even find solitude in coves to the north of the beach.Cala Tarida provides several restaurants and beach bars fronting the water on the beach itself. They offer enough variety for you to chose even a three course meal if you so desire.The wealthy and famous visitors to Ibiza love the Cotton Beach Club. There are also popular places such as Aisea (providing live music) as well as beachfront Ses Eufabies.For places to stay in Ibiza in this area, Cala Tarida has the large hotel club as well as a number of rental apartments and even holiday villas close by.BEST PLACES TO STAY IN IBIZA IN CALA TARIDA
(€€€) 7Pines Kempinski Ibiza
(€€) Hotel Playasol Cala Tarida
6. Santa Eulalia, best place to stay in Ibiza for families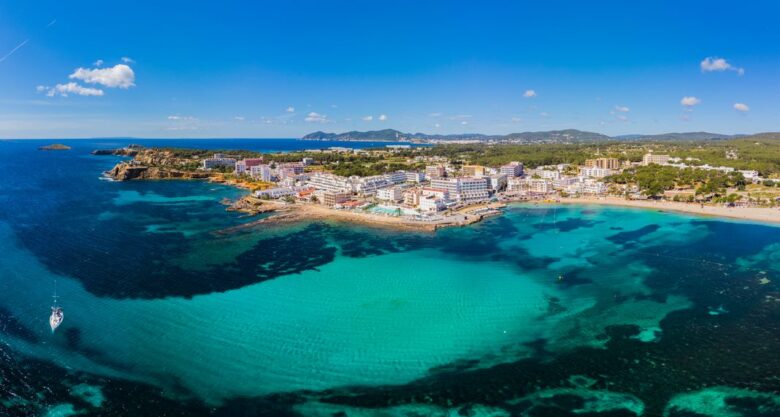 This is the best place for families among the areas to stay in Ibiza. Santa Eulalia earned its reputation as a quieter resort town than most other locales in Ibiza. This is why parents bringing kids to the island will really appreciate what it has to offer.As such, Santa Eulalia remains the third biggest of the resort enclaves on Ibiza. It boasts a range of accommodation choices to suit all types. The resorts here come with large swimming pools that occasionally include slides and children's play areas as well.Outside of the hotel play lands, the town offers a gorgeous white sandy beach with crystal clear waters of the Mediterranean Sea. It is an ideal beach for building up sand castles with your children.Evenings invite you to take a walk along the palm tree fringed promenade. Restaurants here are both numerous and excellent. A few of them offer the best food to be had on the island. The restaurants here specialize in authentic Ibiza cuisine.BEST PLACES TO STAY IN SANTA EULALIA
(€€€) Insotel Fenicia Prestige Suites & Spa
(€€€) ME Ibiza – The Leading Hotels of the World
(€€) Iberostar Selection Santa Eulalia Ibiza
(€) Hostal Sa Rota
See also: Where to stay in Mallorca, Where to stay in Menorca, where to stay in Formentera
7. Cala Llonga, family oriented beach resort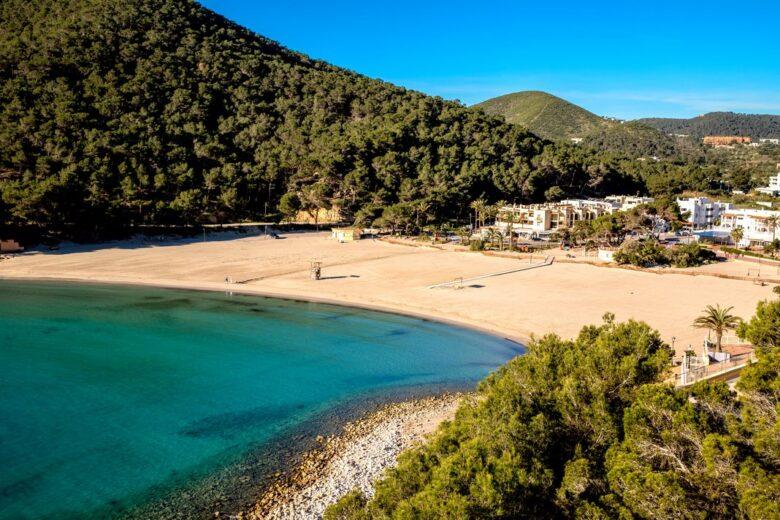 Cala Llonga is another resort where both families and children will feel welcome. They have restaurants, accommodations, and beach activities that are oriented for offering families a terrific holiday. What adds to its charms as a place to stay is that also appeals to couples.The Cala Llonga beach is among the largest on Ibiza. It extends 200 meters long and is also 100 meters wide. Thanks to all of this space here, there is room for a kids' activities area.This includes a small amusement park with trampolines, bumper cars, and other attractions as well as a playground. The snack bars and never ending cafes appeal to the tastes of younger visitors too.You can also take advantage of the diving school here or play a game of beach volleyball that is always popular at this sandy locale. The beach and all of its many amenities is why Cala Llonga works as a place to stay for all types of visitors with varying interests.Accommodation here favor families with children, and the resort is a primary place to stay. Besides this, there are also smaller hotels and an abundance of rental apartments. The majority of these lie only a few meters off of the beach.BEST PLACES TO STAY IN CALA LLONGA
(€€€) Palladium Hotel Cala Llonga – Adults Only
(€€) Apartamentos Oasis Sa Tanca
(€) Apartamentos Cana Sofia
8. Es Canar, coolest place to stay in Ibiza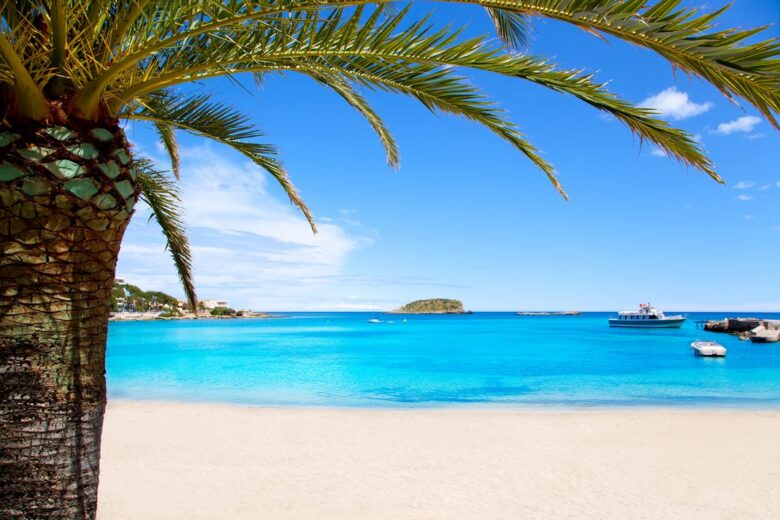 Es Canar may be a small resort, but it offers friendly locals and a surprising variety of things to do for its size. The beach is a pleasant crescent shape, and authentic fishing boats populate the little harbor.A little range of restaurants and bars offer plenty to eat and drink too. There is a famous hippy market held every week called Punta Arabi.The resort lies on the eastern coast of Ibiza and caters to both more relaxed and livelier types of holidays (thanks to the bars on the water's edge). Water sports and activities help to make this a good choice for outdoors active visitors. You are able to parasail, water ski, and windsurf in Es Canar.The surrounding beaches' unspoiled condition (lying in walking distance too) and clear beautiful water is another draw that keeps bringing back tourists year after year.Accommodation here varies from apartments to hotels that are affordably priced and conveniently located. Entertainment options in the evening range from relaxing lounge types of bars to livelier pubs.BEST PLACES TO STAY IN ES CANAR
(€€€) Bless Hotel Ibiza
(€€) Hotel Anfora Ibiza
(€) Hotel Caribe
9. Portinatx, where to stay in Ibiza for couples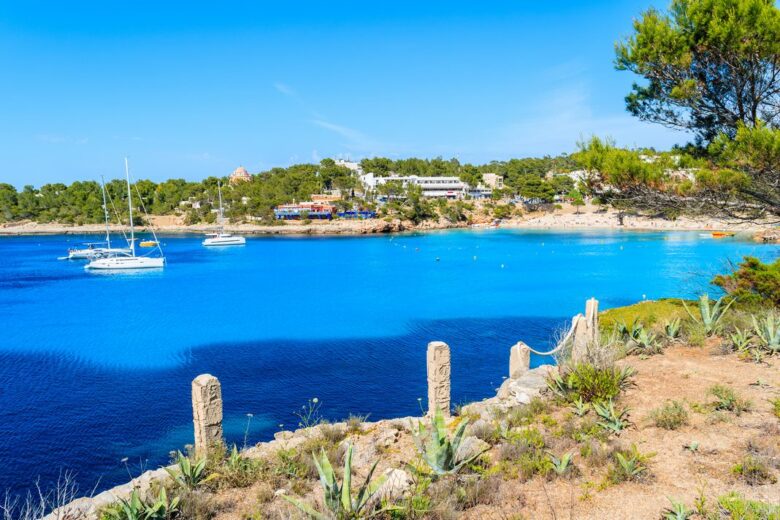 Another great self contained resort in Ibiza is Portinatx. The appeal to this locale is its incomparable scenery and perfectly clear water. Portinatx lies to the north of the island. It has several claims to fame. The resort town boasts three fabulous beaches— the largest S'Arenal Gros, Playa Porto Beach, and a more secluded S'Arenal Petit.All of the beaches here offer restaurants, bars, and sun beds. They area also conveniently located a short walk from the various topqa.infotors find Portinatx to be among the finest of resorts to personally interact with Ibiza's stunning beauty.Scuba divers and snorkelers love its perfectly clear water. You can enjoy a leisurely ride by a little ferry boat down to San Antonio and Puerto de San Miguel. There is the highest lighthouse in the Balearic Islands to walk up to in the town as well, along with several other breathtaking nature walks to enjoy.Portinatx is not ideally located for those who want to go clubbing every night. With regular bus connections to Ibiza Town though, you can still see the island's best sights and take in a night club.Families love how well suited Portinatx is for them. The restaurants and bars cater to families, while the water here is shallow and safe. There are plenty of family friendly apartments and hotels here for accommodation choices as well.Besides this, families can try out a holiday villa that enables self catering. Something about this little resort makes it feel calm and intimate.A final endorsement for Portinatx is that it was chosen to be the filming location for the internationally beloved film classic South Pacific (though it is on a Mediterranean island). It is a testament to the world class scenery, landscape, and nature in this lovely part of Ibiza that is simply too beautiful to miss.It also offers some night life in the form of the pubs and bars that provide dance floors after the sun sets. Here you will not be overwhelmed by thousands of die hard club goers.BEST PLACES TO STAY IN IBIZA IN PORTINATX
(€€€) Barceló Portinatx – Adults Only
(€€) Grupotel Ibiza Beach Resort – Adults Only
(€) Hostal La Cigüeña
10. San Carlos, authentic Ibiza village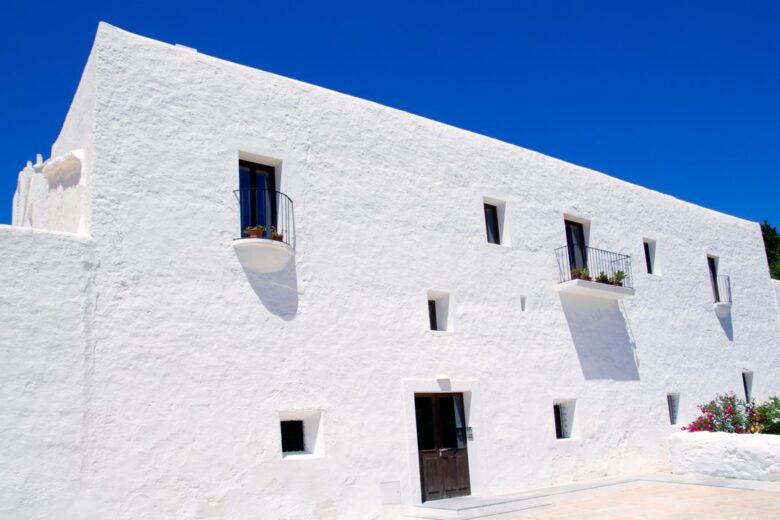 For nature lovers who are more interested in experiencing an authentic Ibiza village with a twist there is San Carlos. This little village is found inland, reasonably far away from the night clubs and wilder party scene of the coast.This village became popular back int he 1960's and 1970's as the hippy set spent their holidays all over the village. Even though the hippies are mostly gone today, the village still provides an interesting Bohemian atmosphere unique to the entire island of Ibiza.One legendary hang out location in the village is Anita's Bar. This has been the be seen spot for decades now. Originally it was the only place in the village that provided a public telephone. It also offered mail service collection, still reflected in the preserved wooden mailboxes that are even in use today.Local artists showcase their wares in the Las Dalias market just outside of San Carlos. Here you will find hand crafted jewelry, fashions, leather goods, and paintings produced by the locals and the remaining hippies.The market is worth several hours of your time if you want to relax and enjoy a cool drink on a hot summer day. You might also enjoy a hike up to the Aquas Blanca Beach.Accommodation in the small village is less readily available. Prices for staying overnight are higher than the typical costs in Ibiza as a result. This is evidenced by the lack of a mid-range priced hotel in the village.BEST PLACES TO STAY IN SAN CARLOS
(€€€) Hotel Rural & Spa Can Curreu
(€€) Agroturismo Can Prats
Images: Shutterstock
Last, Wallx.net sent you details about the topic "Where to Stay in Ibiza: 10 Best Areas❤️️".Hope with useful information that the article "Where to Stay in Ibiza: 10 Best Areas" It will help readers to be more interested in "Where to Stay in Ibiza: 10 Best Areas [ ❤️️❤️️ ]".
Posts "Where to Stay in Ibiza: 10 Best Areas" posted by on 2021-08-13 21:37:34. Thank you for reading the article at wallx.net