Where to live in Amsterdam
Moving to Amsterdam but not sure where to live? Find out which part of the city is right for you with our guide on where to live in Amsterdam.Amsterdam is truly a world city, with citizens of over 180 nationalities calling the Dutch capital home. And it's easy to see why it's so popular. With its beautiful canals, laid-back pace of life, and many unique and distinctive neighborhoods, it's a great place to live.But for many internationals arriving in Amsterdam, it can be difficult to decide where to live. The city has seven unique and colorful districts, all of them well-connected thanks to an excellent network of cycle paths and public transport. To help you find the right area of the city for your needs, our guide gives a brief overview of each Amsterdam district:
Centrum
Oost
West
Nieuw-West
Noord
Zuid
Zuid-Oost
Amsterdam Centrum
If you're looking for the hustle and bustle of the city, then Centrum is for you. The district fans out from Amsterdam Centraal train station and is largely considered the most beautiful part of the city, with picturesque, tree-lined canals at every turn.There's plenty to do in the center, too. From fine dining to fast-food joints and underground nightclubs to plush theaters, there's something for every taste. As an extra, you may just end up living in a charming (and probably crooked), Amsterdam canal house.
Central Amsterdam at a glance
Costs: Central living comes at a price, so expect to pay out for even the most modest apartment, especially on the Canal Belt that wraps around the inner core.
Commuting: An excellent public transport network crisscrosses the city center, connecting the district with other suburbs and cities through trams, metro, buses, and trains.
Parking: Narrow streets and a shortage of space make parking difficult. Fees are high (and increasing) as authorities look to move the city center towards a car-free future.
Recreation: From high-brow theaters and galleries to rough-and-ready coffee shops and clubs, Central has it all. This is the best district for English entertainment, too.
Shopping: Kalverstraat, the busiest shopping street in Amsterdam, winds through the center but there are shops and boutiques for every taste and budget all across the district.
Food and drink: Tastes from all around the world can be found in Central's narrow streets, while bars range from tourist dive bars to exclusive wine bars.
In a sentence: Even throngs of tourists can't detract from the joy of living on the idyllic, tree-lined canals found in Amsterdam's postcard-perfect center.
Amsterdam Oost
Amsterdam's sprawling eastern district really does have it all. From the chic waterfront apartments in the Eastern Docklands to the lively streets of the multicultural Indische Buurt neighborhood, every street shows a different side of the city.
Dappermarkt in Amsterdam OostThanks to the two University of Amsterdam campuses in the vicinity, the district is popular with students. This shows in Oost's surprisingly eclectic cultural offerings. These include arthouse cinemas and converted dockside eateries. The quiet residential island of IJburg even has a beach – popular with the locals on warm summer days.
East Amsterdam at a glance
Costs: Generally more affordable than the center, although prices can vary significantly across the district, depending on location and age.
Commuting: Oost is well-connected to the rest of the city thanks to strong tram, train, bus, and metro links. Services to the east of the Netherlands run from Amstel and Science Park stations.
Parking: There's more parking in Oost than Centrum, although bike is definitely the preferred method of transport for the district's relatively younger demographic.
Recreation: From the leafy lawns of Oosterpark and Flevopark to Park de Meer's Jaap Eden ice rink and sports facilities, there's plenty for active types. There are also water sport options on IJburg.
Shopping: International names can be found in Oostpoort mall, while Indische Buurt is home more independent retailers – and the popular Dappermarkt daily market.
Food and Drink: The terraces of the riverside bars and restaurants soon fill up on summer evenings, while Javastraat is quickly becoming a popular spot for local foodies.
In a sentence: Oost has something for everyone, with a distinctively trendy vibe whether you're a young professional or a family with children.
Amsterdam West
Originally built as a neighborhood for the city's diverse working-class population, Amsterdam West remains largely residential. Stretching west from Centrum's picturesque canal belt, the history of the district can be seen in the density of its housing options.
The West has become popular with those looking for a cheaper lifestyle while still within an easy cycle of the city center. However, there's plenty to keep you entertained in the district. This includes the ever-popular De Hallen entertainment center to the lush Rembrantpark and the innovative Westerpark.
West Amsterdam at a glance
Costs: Prices generally drop off as you move further west through the district, although you can expect to pay a little more near the popular Westerpark.
Commuting: Traveling through West is mostly done by bike, although tram and bus routes connect to the Centrum. Sloterdijk, in the north-west of the district, has connections to Schiphol, Den Haag, and Haarlem.
Parking: Parking is limited in the historic streets towards the center and Westerpark, although there are more options in newer builds to the west.
Recreation: Westerpark is not only the breeding ground for innovation but also home to some of Amsterdam's most popular festivals. Rembrandtpark is popular with runners and families, and home to the oldest petting zoo in town.
Shopping: Generally limited in West, although you'll find everything you need around Bos en Lommerplein and in Kinkerbuurt, including the popular Ten Katemarkt.
Food and Drink: The food scene in Amsterdam West is varied, from all-night kebab joints to trendy wine bars. De Hallen, with its inside food market, cinema and entertainment space is a must-visit.
In a sentence: West's proximity to the center more than makes up for its relative lack of cultural options, although expect that to change over the coming years.
Amsterdam Nieuw West
The name might be slightly misleading – the original westward expansion of Amsterdam kicked off back in 1935 – but an increasing number of expats find their new home here. Largely constructed in waves, newer houses here are often high-rises.
Nieuw West is predominantly residential. Multicultural neighborhoods in the north giving way to newer, more mixed-use areas to the south. Proximity to Schiphol, Rotterdam, and more make this district popular for commuters working elsewhere.
New West Amsterdam at a glance
Costs: You'll find a lot more bang for your buck in New West, with larger homes available for relatively cheaper rates.
Commuting: Metro, tram, and bus routes connect New West to the rest of Amsterdam. Lelylaan station has trains to Schiphol, Rotterdam and Den Haag.
Parking: Newer properties will generally include parking options, although in older developments you'll have to make do with street parking. Biking to the city center can take up to one hour, depending on how far west you live.
Recreation: If you like water sports, then the huge Sloterplas lake is not to be missed. There's also an Olympic-sized swimming pool on the lakefront. New West has a few theatres and entertainment options, but this is mostly a residential neighborhood.
Shopping: Limited international names can be found at Osdorpplein and Akerpoort. New West has plenty of international grocery stores, particularly along Burgemeester de Vlugtlaan.
Food and Drink: There's plenty of food from around the world, although most residents will travel into the center for bars and cafes.
In a sentence: More spacious than other parts of the city (both inside and out), Nieuw West is a great choice for families looking to get a little more from their money.
Amsterdam Noord
Look out across the water from Amsterdam Centraal Station and you'll see the district of Noord. Once a collection of fishing villages, these days the eclectic characteristics of Noord are attracting an increasing number of new arrivals to the city.
The terrace of Eye Museum, Amsterdam NoordWalk around North Amsterdam and you'll soon feel like you're in a different city. Spacious avenues, low-density family homes and repurposed old dockyards make for an eye-opening neighborhood full of surprises.
North Amsterdam at a glance
Costs: If you are looking for a bit more space, then Noord may be up your alley with prices generally lower than many other districts.
Commuting: Those working in the city center will find the free IJ ferries the easiest way to commute. However, there's a metro line that links Noord with Centrum and Zuidas.
Parking: Since the area covering Amsterdam North is quite large, parking is more widely available and inexpensive. Nevertheless, this doesn't hold for all parts of North – especially the older ones.
Recreation: Amsterdam North lives and breathes creativity. From the impressive EYE Film Museum, to the NDSM Werf skating park and the Ceuvel, there are plenty of options for creative city dwellers.
Shopping: Generally lacking in many of the high street stores, although there are plenty of independent traders. Noord's monthly flea market, IJ-Hallen, which is Europe's biggest.
Food and Drink: Don't expect many Michelin stars, but you may be surprised at the creativity of the food scene in North.
In a sentence: Ignore those who don't go north of the river because Noord is quickly becoming Amsterdam's hottest neighborhoods and remains one of the best places to get a family home.
Amsterdam Zuid
Characterized by wide boulevards and the distinctive staircases of its houses, much of the South was developed according to the 1917 Plan Zuid. It's a popular neighborhood with families, with plenty of pocket parks, quiet streets, and family-friendly cafes.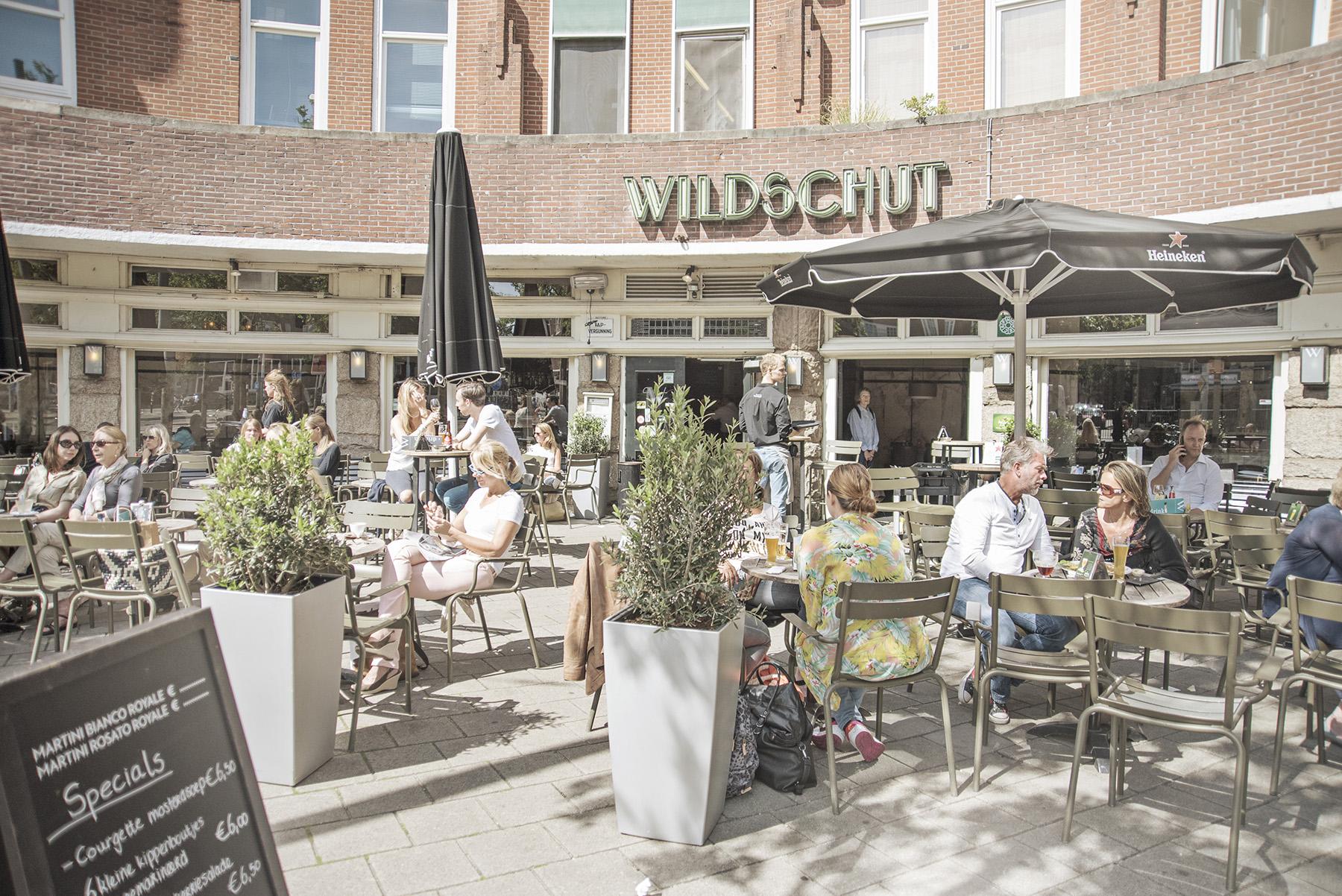 Famous café Wildschut in Amsterdam ZuidZuid is a district of contrasts. The neighborhoods near Museumplein and the Vondelpark have long since been a staple of the Amsterdam bourgeoisie. Nearby De Pijp has recently gentrified into one of the city's coolest areas, with Rivierenbuurt is a family favorite.
South Amsterdam at a glance
Costs: Expect to pay a lot for a place anywhere near Museumplein, although prices slope off south of the A10 ring road and train line.
Commuting: The Zuidas business district is located in the center of Zuid, although commuting to Centrum and further afield is easy with good links by tram, metro, train, and bus.
Parking: Space is limited in De Pijp and around Museumplein, although it becomes much easier as you move south towards Amstelveen.
Recreation: Zuid is home to Amsterdam's most famous park, the Vondelpark, and its best museums. There's also plenty of other parks and sports facilities for those with active lifestyles.
Shopping: Chic boutiques line the boulevards around Museumplein, while Albert Cuypmarkt is popular with tourists and visitors alike. Further south, you'll find every you need – and a few things you didn't know you needed.
Food and Drink: De Pijp attracts locals to its wide array of eateries from around the world, while you'll be surprised at just how many cozy bars you'll come across around the district.
In a sentence: The grandiose streets around Vondelpark and Museumplein might be out of reach, but Zuid has a great family-friendly feel that blends with its distinctive heritage.
Amsterdam Zuid-Oost
When it comes to where to live in Amsterdam, many expats will, unfortunately, overlook Zuid-Oost. Once the brave new world of Amsterdam, these days multicultural Zuid-Oost has settled into one of the city's more diverse, surprising districts.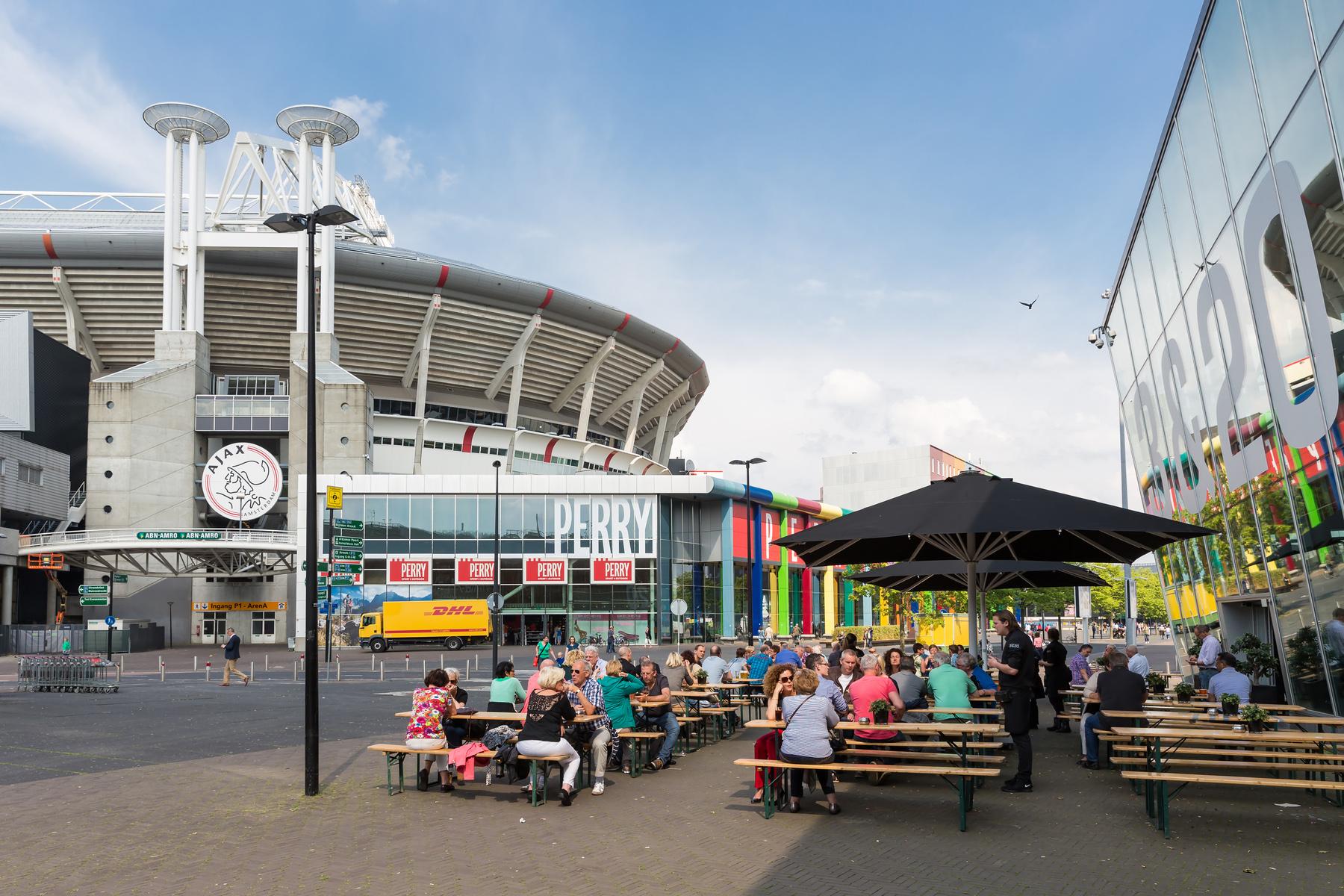 Amsterdam Ajax StadiumThe main entertainment area is centered around the Johan Cruijff Arena – home to European footballing giants, Ajax. Here, you'll find shops, restaurants, and the district's main train station. There's also plenty of green spaces for when the sun shines.
South-East Amsterdam at a glance
Costs: Prices in the South-East tend to be lower due to the distance from the center, although prices pick up around Arena train station.
Commuting: Although the cycle into Centrum takes a little longer, South-East Amsterdam has good metro and bus connections, as well as train links to Utrecht and further afield.
Parking: The area has more parking options than elsewhere, and many who live here use a car. There is an abundance of car parks, to service the concert and sports venues in the area.
Recreation: If you are an Ajax fan then this is the place to be, although it does mean the Arena area can get busy, particularly during European matches. Bars and restaurants are mostly based at Amsterdamsepoort, although this is gradually changing.
Shopping: The main shopping center, Amsterdamsepoort, has everything you'll need, including supermarkets and larger retailers. IKEA is also in the neighborhood.
Food and Drink: Bars and restaurants are mostly in Amsterdamsepoort, although this is gradually changing as more people move into the area. There's plenty of ethnic food options.
In a sentence: Perfectly placed for those who want to live in Amsterdam but work elsewhere, Zuid-Oost is definitely the district to watch.
Last, Wallx.net sent you details about the topic "Where to live in Amsterdam❤️️".Hope with useful information that the article "Where to live in Amsterdam" It will help readers to be more interested in "Where to live in Amsterdam [ ❤️️❤️️ ]".
Posts "Where to live in Amsterdam" posted by on 2021-08-14 08:14:26. Thank you for reading the article at wallx.net