Expats fret as Vietnam tightens visa policies
Over the past month, Olivia Taylor (name changed), an Australian, residing in Ho Chi Minh City (HCMC), has always lived in a "stressful state".
She was informed that the authorities would stop extending both the tourist visa and the business visa.
Taylor, who holds a tourist visa, has been waiting for Vietnam's borders, closed on Covid-19, to open to everyone. She has been in Vietnam for almost two years and works as an English teacher. She has no intention of going back to Australia as it would be very expensive to stay in quarantine there (more than $2,300). Furthermore, she enjoys being in Vietnam, where she has felt safe during the pandemic, and looks forward to "becoming a part" of life here.
So she asked the school where she teaches to get a work permit which costs about $1,000. Taylor has 10 days left, "but I still don't know if my application will be accepted. I hope that everything will work out for me."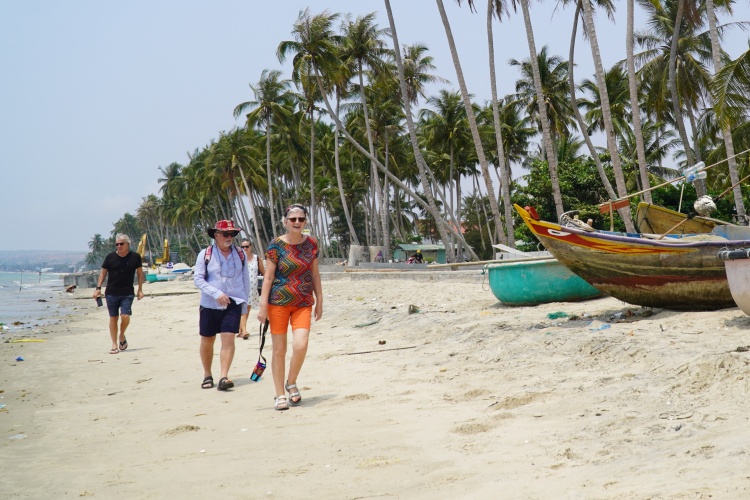 Foreigners bathing in Mui Ne, Binh Thuan province, March 2020. Photo VnExpress / Viet Quoc.
In worse circumstances, American Robert Miller (name changed), said he had just lost his second job as an English teacher when his employer, an English teaching center in Bac Giang, closed down. when the northern province became the country's new Covid. -19 epicenter.
Miller has given up his main job in IT.
With no income, unable to pay the rent in Hanoi, he moved to Da Lat in the Central Highlands to live with friends.
Describing his predicament as an "impossible situation" in terms of getting a work permit, Miller said he had just a few days left on his visa. He was advised to pay for a Temporary Residence Card (TRC) but agents raised the price. It used to be around $1,600 and now they ask for much higher.
Miller, like Taylor, is very interested in Vietnam and wants to find a job to establish a career here. But the pandemic has made it extremely difficult to get a new job.
Miller does not want to return to the US because "vaccines do not solve the problems of mutant strains.
"I do not know what to do now."
Miller and Taylor are among the few who agree to share their plight. Meanwhile, many foreigners in different groups on social media have expressed their anxiety about Vietnam's so-called new visa policy. Most of those who post their concerns are very busy looking to extend their visas.
Too hurry
Miller feels the authorities were "rushed" in issuing the new visa regulation. He suggested that foreigners should have more time, maybe months, instead of weeks, to prepare for the change.
Vietnam can strive to create a better system to root out illegal workers while allowing legal visa holders to extend their stay during the Covid-19 crisis , he said.
Agreeing with Miller about the possibility of "longer preparation" advice, Taylor said she wants the Vietnamese government to let people who want to apply for a new visa over a three-month period. As a result, they can find ways to save money on airline tickets back home or explore job opportunities in other countries. After that, there will be more people with work permits and legal visas in Vietnam.
Taylor says that many of her friends have lost their jobs because of different social regulations in different provinces. They have to use their savings, which would otherwise be spent on plane tickets or visa extensions, to buy food and pay rent. In other words, they cannot leave or start over with other plans because they are financially constrained without having enough work.
"It was a very difficult time, it was like running around. Everyone felt so stuck."
Taylor hopes that in the next six months, Vietnam will loosen regulations thanks to vaccines, so that foreigners can have enough money and leave safely.
Alternative destinations
Currently, many foreigners are discussing the opportunity to come to Mexico because they cannot extend their visa in Vietnam, Taylor said. Mexico has a similar cost of living in Vietnam, and people can also become part of the society there, she added.
People are also looking at other places like Croatia and Portugal that offer special visas to people who can prove they earn an income online. It's called the visa for digital nomads, she said.
"However, I don't know if making such a big change (to other countries) would be a very wise decision."
As someone who was once stuck in Vietnam due to Covid-19, William Wilson (name changed), also felt that the new visa regulations were issued in a hurry.
Wilson, who does not want to reveal his nationality, says the problem now is that there are not enough flights for foreigners to exit. He estimates that the planes have a very limited reservation capacity, about 30%. So if people can book a ticket to go home, they should get a visa until then, which "isn't very difficult.
"The solution is not very complicated, let them buy a ticket and leave," he said, adding that he has a family back home and wants to see them.
Choosing an option to leave Vietnam at the end of May, Curtis Edmonds, a retired US soldier, said he entered on a tourist visa while traveling to various parts of the world. He didn't plan to stay as long as he did, but "I fell in love with this place."
Edmonds has lived in Vietnam since 2018 and conducts visa processing every 90 days. His agent then offered him a business visa that would allow him to stay for the whole year without going through the visa formalities.
"I said yes! I didn't know if it was illegal or under a cover company, until this new wave started."
His agent informed him one day that he should try to find a sponsor or get a job before his visa expires on June 1, 2021. After reviewing the situation, Edmonds knew he had Time to leave Vietnam. Although he has never done anything illegal in the country, "realizing that I am living illegally there is a very scary situation."
He and his girlfriend as well as her family were heartbroken when they said goodbye. Then he found out that it took her a minimum of a year to get to America.
But Edmonds remains optimistic. "I hope to return to Vietnam in 2022."
Last, Wallx.net sent you details about the topic "Expats fret as Vietnam tightens visa policies❤️️".Hope with useful information that the article "Expats fret as Vietnam tightens visa policies" It will help readers to be more interested in "Expats fret as Vietnam tightens visa policies [ ❤️️❤️️ ]".
Posts "Expats fret as Vietnam tightens visa policies" posted by on 2021-06-17 02:00:00. Thank you for reading the article at wallx.net